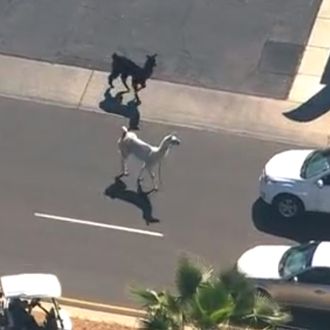 The two llamas who ran loose through a retirement community in Arizona yesterday were visiting to cheer up people at a senior center, reports the AP. Wildly galloping around the neighborhood for an hour doesn't seem like the best way to do that, but who are we to judge?
According to the AP:
For more than an hour, residents petted the animals and walked them up and down the halls, Parsons said. Sometime after 11 a.m., the llamas' handlers took them outside for a bathroom break. That's when one got startled and took off, with the second llama in pursuit.
Let's hope watching an emotional-support animal literally flee before your eyes doesn't stir up any latent issues of abandonment for Sun City's senior residents.