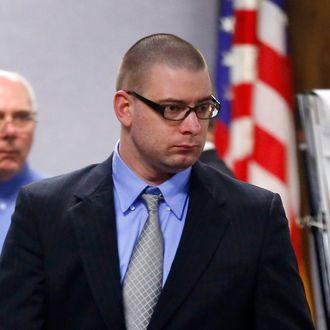 Eddie Ray Routh takes his seat during the trial.
Photo: Tom Fox - Pool/Getty Images
A Texas jury has found Eddie Ray Routh guilty of murdering former Navy SEAL and author Chris Kyle, the inspiration for American Sniper. The New York Times reports that while Routh's lawyers tried to argue that he was legally insane, the 27-year-old ex-Marine will serve a life sentence in prison — without parole — for slaying Kyle and his friend Chad Littlefield in 2013 at a shooting range. "We're so thrilled that we have the verdict that we have tonight," Littlefield's mother said.
Prosecutors didn't seek the death penalty in the capital murder case that hinged on determining Routh's mental state at the time of the killings. Routh reportedly told authorities and doctors that he thought Kyle and Littlefield were "pig assassins" who were going to kill him if he didn't kill them first. The three went to a gun range together because Routh's mother asked Kyle to befriend him and help him normalize his postwar life. Among the evidence prosecutors submitted to the Stephenville court included the recording of a phone interview between Routh and a New Yorker reporter. "Are you gonna shoot? Are you gonna shoot? It's a shooting sport. You shoot," Routh said on the call, claiming Littlefield was eyeing him at the range. "That's what got me all riled up."
The defense wanted Routh put in a mental hospital and was worried that the awards-season popularity of Clint Eastwood's Oscar-nominated movie would interfere with the trial proceedings and render them unfair. Routh's attorneys reportedly attempted to postpone and move the trial out of Erath County, where Kyle died, but the presiding judge quashed that idea.
Experts who examined Routh testified that Kyle and Littlefield's killer might have fudged the details of his time in Iraq and Haiti so as to receive disability benefits. They also said Routh's claims that hybrid pig people and cannibals were after him could have been taken from episodes of Seinfeld and Boss Hog, and suggested he was trying to convince the authorities that he was paranoid and schizophrenic. The prosecution painted Routh's purported post-traumatic stress disorder as a myth, and the jury found that he was criminally responsible, ultimately knowing right from wrong when he killed Kyle and Littlefield.
On February 4, a day after the second anniversary of the murder, Kyle's widow wrote on Facebook: "Two years. What does it mean? I don't know. It means that the world keeps spinning and life goes on. We all have pain and suffering and the world doesn't wait on us to figure out what to do with it. I know I have grieving left to do. I know it still hurts like crazy and I know it doesn't feel anywhere close to two years since Chris and Chad's physical presence was taken from us." Taya Kyle attended the Oscars to represent the film about her late husband's time as a sniper in the Iraq War, and flew to Texas for the end of the two-week trial. She was reportedly not in the courtroom when the verdict was read, and has been silent on social media since the news of Routh's fate.