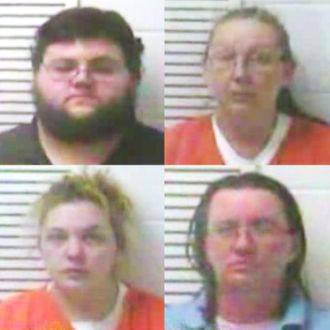 If you ever become depressed about how your family doesn't get you, comfort yourself with this: At least you're not part of the Missouri family who staged a fake kidnapping of their own child to punish him for being "too nice."
St. Louis Today reports that a 6-year-old boy's mother, grandmother, and aunt enlisted the help of a local gas-station employee to convince the child he was being kidnapped. Nathan Firoved met the boy at his school bus stop and lured him into his truck, where he told him he would "never see his mommy again," threatened him with a real handgun, tied him up, and covered his face.
But it didn't stop there!
Later, Firoved took the boy — still blindfolded — to the basement of the boy's home and left him there, authorities said. The boy's aunt, Kroutil, removed his pants and told him he could be sold into "sex slavery." She also chastised him because he did not try to resist her. He did not recognize her voice.

The child was kept confined in the basement for an undetermined time before he was untied and told to go upstairs. There his family lectured him about staying away from strangers, police said.
The four adults involved in the horrifying plan were arrested and charged with crimes ranging from felony kidnapping to abuse of a child, and the boy was placed in protective custody. Maybe Detective Benson can adopt him?