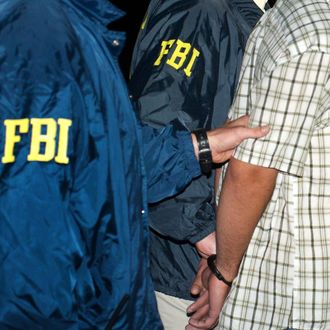 Photo: Chris Schneider/EPA/Corbis
The FBI has arrested three Brooklyn men who allegedly sought to join ISIS. The trio, ages 19, 24, and 30, were planning to fly to Turkey from JFK International Airport and make their way to Syria. If the plan to travel to the Middle East failed, they were allegedly preparing to carry out a domestic attack. A local ABC News affiliate reports that the men will appear in federal court in Brooklyn on Wednesday afternoon and have been charged with providing support to the Islamic State. 
The three men's use of the internet to communicate their support of ISIS helped the FBI apprehend them. One of the men wrote last summer on an ISIS-supporting website that he would kill President Obama if asked; another wrote of using a machine gun against police officers who hindered his plans to go to Syria.