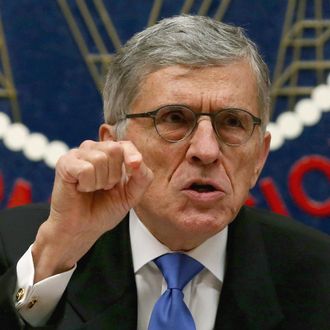 Photo: Mark Wilson/2015 Getty Images
The Federal Communications Commission voted to adopt "net neutrality" regulations on Thursday, which made the White House and tech companies very happy, and broadband companies very mad. 
The changes will keep broadband companies from blocking legal content, prioritizing some web traffic over others, or discriminating at all when it comes to providing internet access. Verizon responded to the news by posting a #TBT post on its blog written completely in Morse code, saying the FCC was imposing "1930s rules on the Internet." They also sent out a press release written in a very smudged typewriter font. 
There are plenty of ways the net neutrality rules could be overturned — some broadband companies are planning to sue the FCC or Congress could pass legislation reversing the rules (and many of the Republicans in the majority have opposed net neutrality) — and the regulations still need to be approved by the Office of Information and Regulatory Affairs.