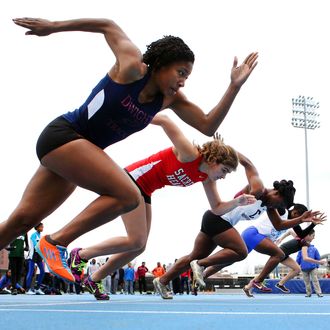 Photo: Tim Clayton/Corbis
From 2008 to 2011, 282 requests for new girls sports teams were filed at New York City public schools, half of which were rejected. From 2002 to 2010, those schools had a net increase of 138 boys' sports teams. In the same time period, girls' sports teams saw a net increase of 44.
If the city's public-school system wanted to create equal access to athletic programs for girls and boys, it would need to create an additional 3,862 slots for young women on teams — especially for basketball, bowling, golf, volleyball, softball, soccer, tennis, cross-country, and swimming. 
After looking at all this data, the U.S. Department of Education's civil-rights office decided that the NYC Department of Education has violated Title IX, an education amendment passed in 1972 stipulating that "No person in the United States shall, on the basis of sex, be excluded from participation in, be denied the benefits of, or be subjected to discrimination under any education program or activity receiving Federal financial assistance."
The New York City Department of Education responded to the settlement — which was a result of a multi-city complaint filed by the National Women's Law Center — by disputing the claims of discrimination, while also announcing plans to begin surveying middle- and high-school-age girls to find out if there are sports that require expansion.
One of the biggest barriers to closing the gender gap in school sports is money; starting new athletic programs is expensive. However, the city has set aside $1 million to help pay for the coaching, equipment, and other expenses of 96 additional teams over the next four years. 
Providing equal access to athletic programs obviously isn't a problem New York City is grappling with alone. Although high-school girls have broken sports participation records for the past 25 consecutive years, girls still only make up 42 percent of high-school athletes. The Obama administration's budget proposal for 2016 includes a 31 percent increase in funding for the Department of Education's civil-rights office, which has had to deal with an increasing number of discrimination complaints in recent years.