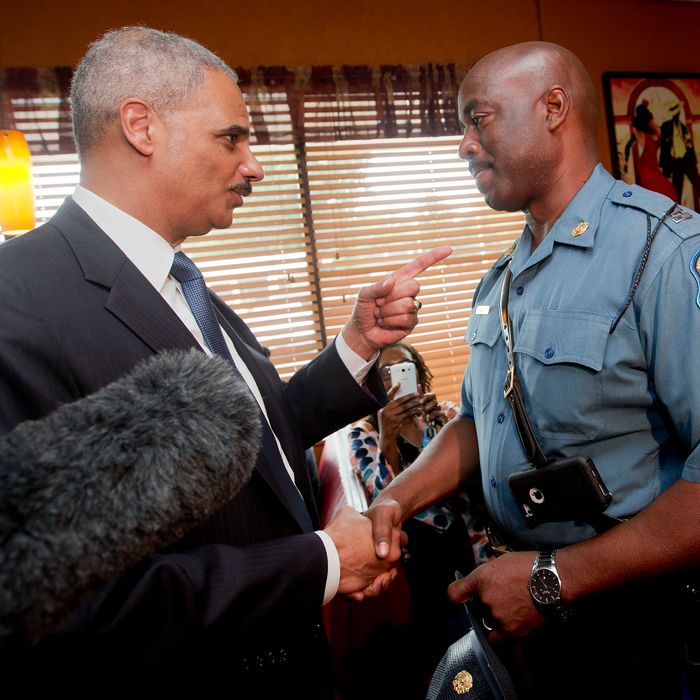 Eric Holder talks with Captain Ron Johnson of the Missouri State Highway Patrol on August 20, 2014 in Florrissant, Missouri.
Photo: Pablo Martinez Monsivais-Pool/Getty Images
While the protests over the shooting of Michael Brown have mostly died down, the Justice Department is still conducting two investigations related to the case, and it looks like we'll hear the results shortly. In the fall, the department launched probes into both the shooting and police department operations. On Tuesday, Attorney General Eric Holder said he's "satisfied with the progress" that's been made and "comfortable" saying he'll be able to announce the findings before he steps down in several weeks. Now sources tell CNN that, as expected, charges will not be brought against former officer Darren Wilson, but the Justice Department did find a pattern of racial discrimination in the department's tactics, and is prepared to sue if the force does not implement changes.
Earlier this month, 15 people from the St. Louis region filed lawsuits against Ferguson and nearby Jennings, alleging the cities essentially created debtors' prisons by targeting poor black residents for tickets over minor offenses. They claim they were thrown in unsanitary and overcrowded jails when they were unable to pay the fines, all in an effort to generate revenue for the town. A law enforcement official told Politico that the Justice Department has been "seriously examining" these allegations and meeting with lawyers from groups working with the plaintiffs.
"All discussions [with the Justice Department] have focused on what we believe to be a connection between the allegations of police misconduct and the erosion of trust between members of communities of color and their government," said Thomas Harvey, executive director of Arch City Defenders.
Even if the Justice Department concludes that Ferguson police "engaged in systemic violations," the department may be able to avoid a lawsuit. Under Holder, dozens of police departments have been investigated for civil-rights abuses, which often end with the police agreeing to make specific reforms and submitting to federal monitoring. So far, Ferguson's police chief, Thomas Jackson, has suggested that he's willing to work with the Justice Department. He told CNN, "Everything they suggested in the past has been reasonable and we have tried to comply."