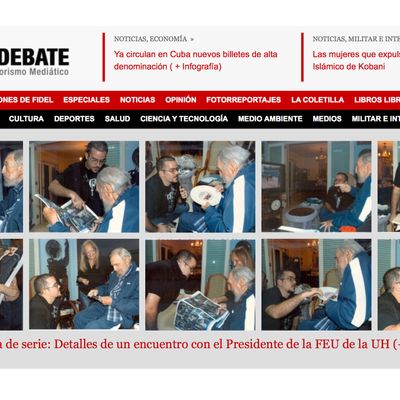 A screenshot of Cuba's website Cubadebate shows ten photos of Fidel Castro on their opening page in Havana, Cuba, Tuesday Feb. 3, 2015.
Photo: AP/Corbis
Cuba's official Communist Party newspaper, Gramma, has published a series of photos of Fidel Castro, suggesting that he is, in fact, alive. Rumors of Castro's demise began circulating in December, when he failed to comment on his brother Raul's decision to resume diplomatic relations with the United States. The 88-year-old former dictator finally weighed in on the matter last week, with a letter also printed in Gramma, but the images of him visiting a Cuban citizen are an even more convincing proof of life. 
In the photos, a healthy-looking Castro sports a blue tracksuit and sits in an armchair for a visit with University of Havana student leader Randy Perdomo García. According to the New York Times, the pair "discussed university life, the former leader's diet and daily exercises, and international affairs," and, perhaps not coincidentally, the events featured in a recent issue of the newspaper, which was prominently displayed.