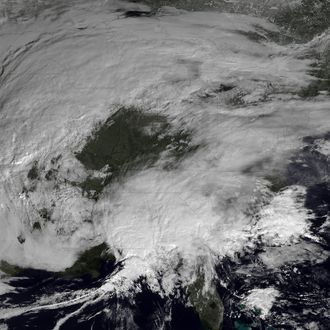 We're only slightly more than halfway through the month, but February's freakish weather has already proven record-breaking for cities up and down the East Coast. Between massive snow totals and arctic temperatures, winter has once again reminded us that it is cruel, unrelenting, and completely unmoved by your prayers for one — just one — light spring jacket day. Here are some of the weather records that have been set across the Northeast just this month.
Temperature Records
On average, temperatures across the Northeast are much, much lower than average — in some instances, like on Sunday, they've even been 25 to 30 degrees below normal. It's not just cold; it's record-breaking cold.
Snowfall Records
New York has received a fair amount of snow this year, but nothing compares to poor Boston, which has been breaking snow records left and right. Consider it the only contest Boston will ever beat New York in.
Winter Storm Marcus, which fell the second week in February, was Boston's seventh heaviest snowstorm of

 

all-time.
February 2015 is the snowiest month on record for Boston, with the city measuring a total of 58.8 total

 

inches.
This season has already been the third snowiest ever for

 

Boston.
On February 9, Boston broke its record for snow depth, recording 37

 

inches.
Meanwhile, the West Coast is having one of the warmest winters on record; just another one of those quality-of-life things for Californians to brag about.