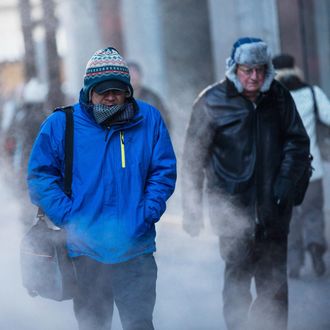 Photo: Andrew Burton/Getty Images
Hope your boss gave you a three-day weekend, because it's unbearably cold outside today. Early this morning, Central Park recorded a temperature of 3 degrees, the coldest documented since January 16, 2004. 
Today's high in NYC is 23 degrees, but temperatures will be stuck in the teens for most of the day, and windchills will make it feel like it's -15. In fact, it's so freakin' cold that the fountain in Bryant Park has totally frozen over, and the East River is a big mass of frozen toxic waste.
If you are being forced to commute into work today, you might want to wear two to three coats: The arctic temperatures have caused some extensive train delays, which could have you waiting outside on the platform for 20 minutes at a time. DNAinfo reports that almost all trains were experiencing delays, and a bunch of lines, including the 2, 3, 4, 5, A, E, D, F, N, and Q, may be running local due to the MTA's cold-weather plan. 
As with all extreme-weather events, the temperature screenshots are in full effect on Instagram and Twitter today.
Unfortunately for anyone who enjoys being able to feel their own face, it's going to be absurdly freezing for basically the entire week, with highs never reaching above freezing. Plus, we get the added benefit of light snow showers all day tomorrow. Let's all go back to bed until spring.