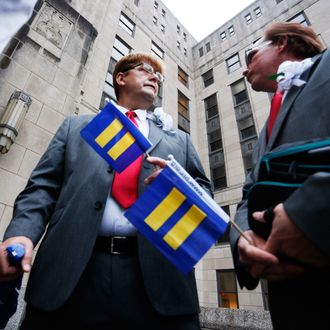 A same-sex couple marries in Alabama.
Photo: Hal Yeager/AP/Corbis
Alabama began issuing marriage licenses to same-sex couples this morning, despite Alabama Supreme Court Chief Justice Roy S. Moore's last-ditch effort to kill the joy. 
U.S. District Judge Callie Granade struck down Alabama's gay-marriage ban back in January, but she put a hold on the ruling "to let the state prepare for the change," the Associated Press reports. With the hold set to expire this morning, Alabama Attorney General Luther Strange asked the United States Supreme Court to stop the weddings until the justices take up the issue themselves later this year. When the SCOTUS declined to get involved in Alabama, Moore sent a Sunday night order instructing state probate judges not to oversee gay marriages. ("I didn't start this. This was a federal court case pushed on our state," said Moore last week.) 
While some Alabama judges said that they planned to comply with Moore's request, others were performing same-sex unions on Monday. Among them was Jefferson County's Alan King, who noted, "With all due respect to Chief Justice Moore, he's on the Alabama Supreme Court, and he's not a federal judge." Following this development, gay couples are now able to wed in 37 states, plus D.C.