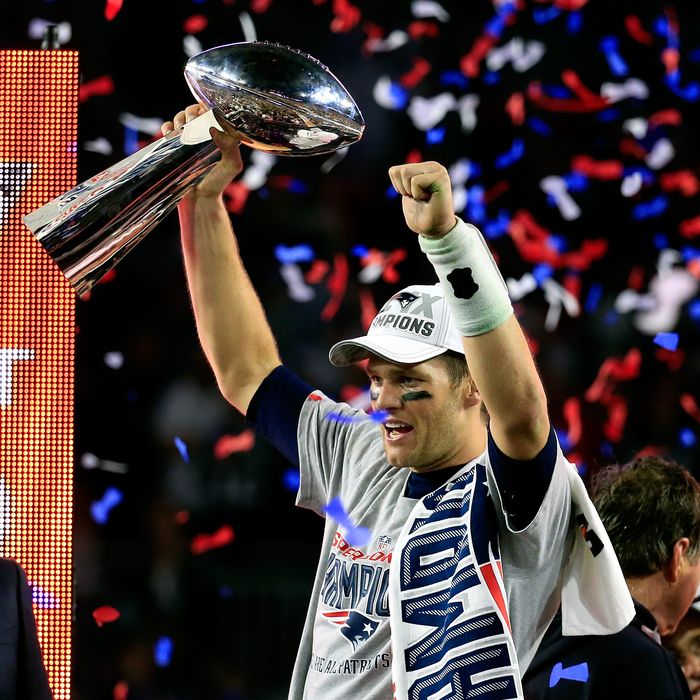 The New England Patriots won their fourth Super Bowl of the Bill Belichick era on Sunday, rallying to beat the Seahawks in a wild game that came down to the final seconds. Tom Brady won MVP honors in a game that involved a big performance from a recent Foot Locker employee, Katy Perry dancing with sharks, some questionable play-calling by Seattle, and a player pretending to poop a football. Want to relive it all? Check out our GIF recap.
Noted Skittles aficionado Marshawn Lynch fuels up just before kickoff.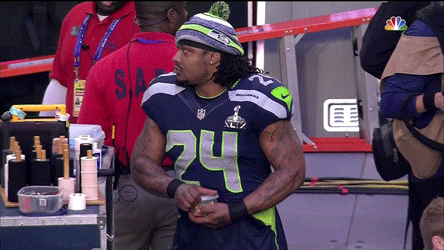 Tom Brady took advantage of Seattle's banged-up secondary on the game's first scoring drive, picking on Tharold Simon, in particular. Here, he connects with Brandon LeFell to give New England the lead.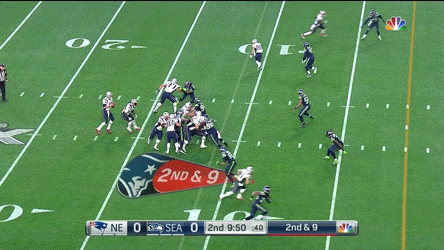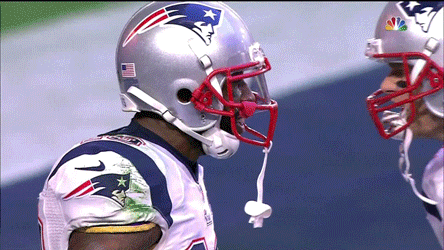 Chew with your mouth closed, Steven Tyler!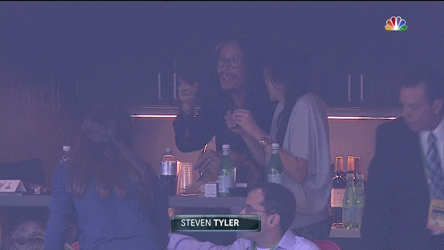 Russell Wilson's first completion came nearly 25 minutes into the game. But Seattle would tie the score at 7 late in the second quarter, following this Lynch touchdown.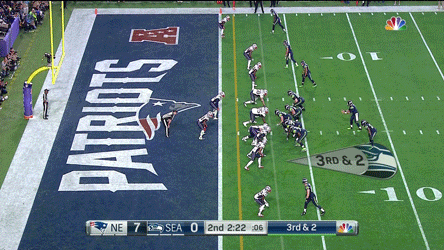 New England would answer right back, driving 80 yards in eight plays to take a 14–7 lead. Brady's touchdown pass to Rob Gronkowski tied the quarterback with Joe Montana for the most Super Bowl touchdown passes in history.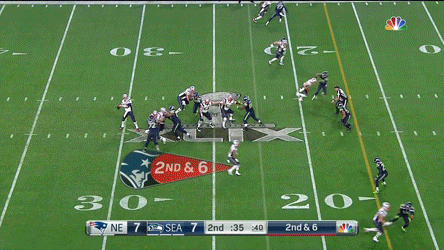 With six seconds left in the first half, Seattle coach Pete Carroll faced a decision: attempt a short field goal, or take a shot at the end zone, at the risk of time expiring if they didn't complete a touchdown pass. Carroll went for it, and it paid off, with Wilson connecting with Chris Matthews for the score. The teams went to the locker rooms at the half with the score tied at 14.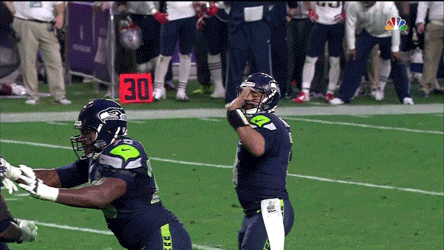 Meanwhile, back on the field …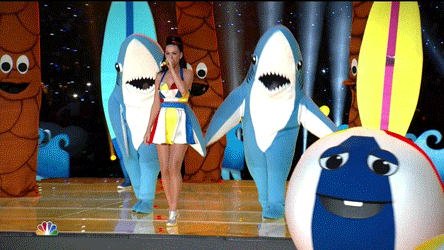 Matthews, who was out of football and working at Foot Locker when the Seahawks called him in for a tryout last year, made the first two catches of his NFL career in the first half (including that late touchdown), then kept it going with this great reception early in the third quarter. Seattle would settle for a field goal on that drive to take a 17–14 lead.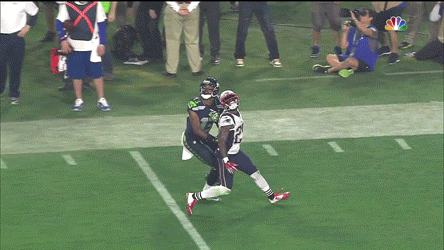 Seattle's Doug Wilson, knowing the umpire would get in the way of cornerback Darrelle Revis, got free for an easy touchdown catch here.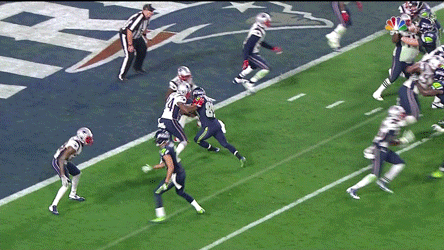 Unfortunately, NBC cut away from his touchdown celebration, in which he pretended to poop out a football.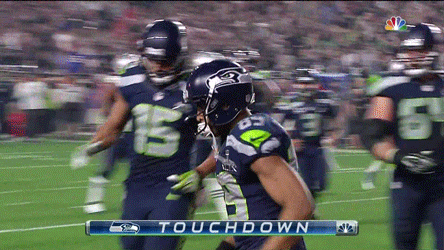 It's possible that Richard Sherman was taunting No. 24 Revis, his New England counterpart, as the NBC booth suggested. Or maybe he was simply pointing out the score: 24–14 Seattle.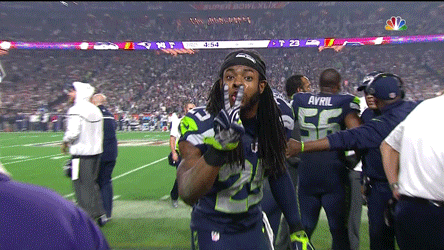 With this touchdown pass to Danny Amendola, Brady passed Montana on the all-time Super Bowl touchdown list. The point after cut Seattle's lead to 24–21.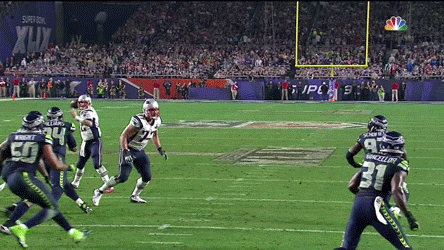 Then with 2:02 remaining, Brady hit Julian Edelman to give the Pats a 28–24 lead. Robert Kraft was psyched.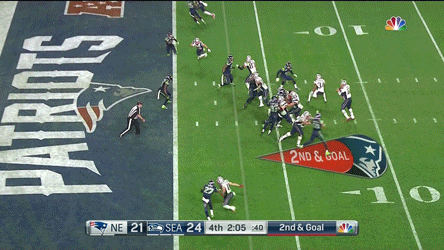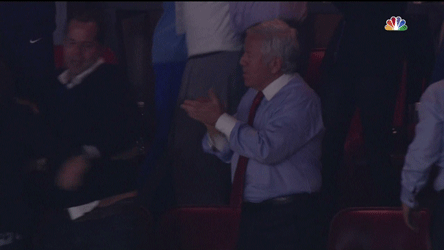 But that left plenty of time for the Seahawks to answer, and after Jermaine Kearse made a Tyree-level ridiculous catch, it looked for all the world like New England was headed for another crushing Super Bowl loss.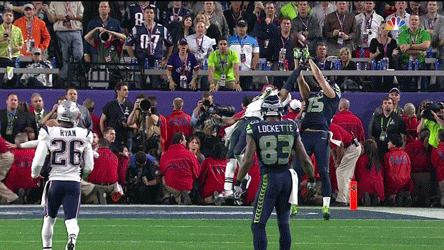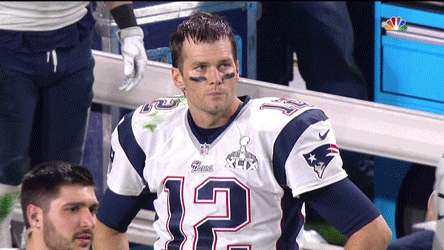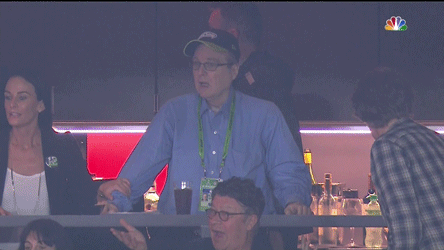 But instead of handing the ball off to Lynch over and over to get into the end zone, Wilson tried to pass, and Malcolm Butler picked him off.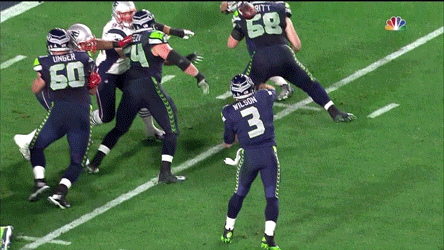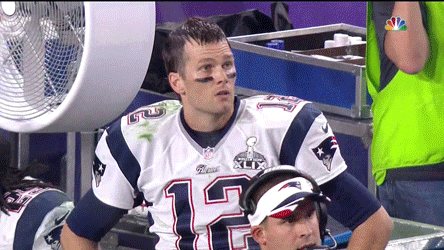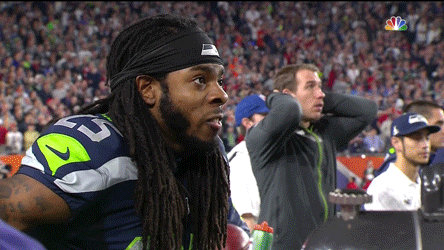 Brady then was able to just run out the clock, with a bit of late-game fighting mixed in.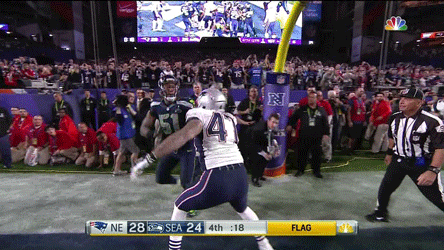 And once things settled down, the celebration was on.