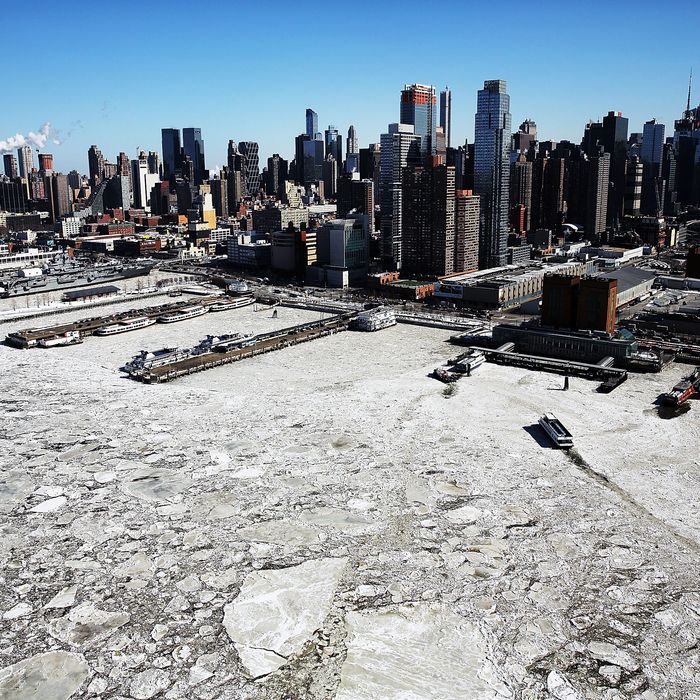 New York City and its ice floes.
Compared to yesterday — which, at just 2 degrees, was this winter's coldest day — today has been downright balmy. And there's more good news: It's going to continue getting warmer, with forecasts saying that New York City will hit 45 degrees on Sunday. Of course, there's also some bad news: The rising temperature is going to turn this afternoon's nice, fluffy snow into a deceptively pleasant-sounding "wintry mix" overnight. So keep that in mind as you finalize your big Saturday night plans.
The National Weather Service has issued a winter weather advisory through 1 p.m. tomorrow, promising, "MODERATE TO LOCALLY HEAVY SNOW" that will "MIX WITH AND CHANGE TO RAIN LATE THIS EVENING THROUGH MIDNIGHT BEFORE TAPERING OFF EARLY SUNDAY MORNING." The aforementioned rain is expected to be "freezing," in case you somehow thought something else was possible.
Once the precipitation clears up, you'll be able to enjoy a cloudy afternoon. "So that will be the day to get out there, if you've got some frozen driveways or walkways, that might be the day to get out there and take care of it," said Office of Emergency Management commissioner Joe Esposito. "Because it's going to get cold again next week." That's right: Come Monday, the temperature will be back in the low teens, with a high of 8 degrees that night. Will it ever be warm again? Yes — but not for another couple of weeks.