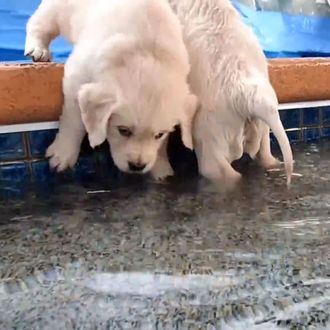 If you're reading this post, congratulations: You made it through this week without freezing to death. In case that knowledge isn't enough to carry you through to the weekend, here are eight more good things that happened this week.
1. You can now see a baby king penguin at the Central Park Zoo. The lil' baby hatched back in August but was kept with its parents away from crowds so doctors could be sure it grew healthy and strong. This week, it was released into the larger exhibit for visitors willing to brave the temperatures to see. No official name has been released, but I feel like Jessica has a nice ring to it?
2. Your landlord can now get in real trouble for harassing you. Tenant complaints about landlord harassment doubled between 2011 and 2014, partly because landlords were attempting to drive tenants out of the building so they can charge higher rents. But this week, NYC and the state teamed up to create an official task force that will strive to protect tenants' rights and shield them from harassment. "This, this is a game-changer, to have the top law enforcement official in New York state weighing in on behalf of our tenants and fighting to protect affordable housing," Mayor de Blasio said, according to the New York Times.
3. Revenge-porn king Hunter Moore is going to jail for at least two years. Feel free to celebrate by taking naked selfies — just don't store them with any cloud-based services.
4. The red pandas at the Cincinnati Zoo had the time of their lives. Good to see that at least somebody is enjoying the cold.
5. A ski school destroyed by the Taliban is back up and running. Visitors from all over the world donated money and equipment to Pakistan's only civilian ski school to help it reopen after being shut down by the Taliban. "When we unpacked all this equipment, we were so joyful," instructor Matee Ullah Khan told the BBC. "My students were so happy. All different sizes of skis, snowboards, poles, ski shoes, warm clothing and helmets — each and everything properly packed and in good condition — it was like a dream come true."
6. Baseball games are going to be shorter! Great news for anyone with a baseball-loving significant other: New rules imposed by the MLB for the 2015 season will shorten game times, meaning they'll now only feel 849,303,184 innings long, instead of 849,303,185. 
7. Millennials are finally finding jobs. The millennial employment rate hit 76.6 percent in January, which Bloomberg reports is the highest it's been since the 2008 recession, and wages are on the rise. Here's hoping the rise in wages is directly correlated with the decline of "millennials live in their parents' basements" jokes.
8. PUPPY POOL PARTY PART TWO. Part one can be found here.