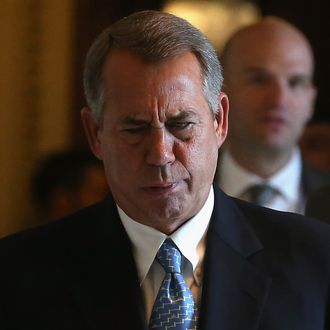 Photo: Mark Wilson/Getty Images
Republican leaders in the House tried to prevent the midnight shutdown of the Department of Homeland Security by passing a stopgap bill that would fund the department for three weeks, leaving time for both parties to debate what should be in the final budget. It didn't work.
The final vote was 203 to 224, with many conservative and tea party Republicans voting nay, as well as most of the Democrats in the minority. Conservative Republicans want to include a provision defunding President Obama's executive order on immigration, while House Democrats want to vote on the bill that would fund DHS through the year, which has already passed in the Senate. With only a few hours left to go before the end of the day, options for avoiding shutdown are running out. Representatives were warned that additional votes tonight and this weekend may be necessary.