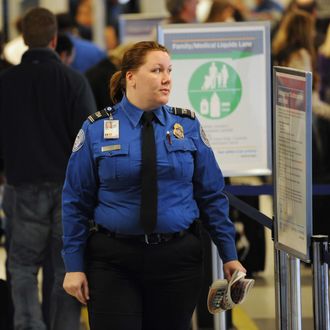 Photo: Stan Honda/AFP/Getty Images
Congress gave itself until this Friday to pass a budget for the Department of Homeland Security. Per usual, the legislative body has done an exemplary job of creating maximum dramatic tension, if not passing a budget, which means the agency could soon have to deal with a shutdown.
Much of the DHS's workload — protecting the country, running the Transportation Security Administration, etc. — can't be put on hiatus during a political battle. That means that most of the department's workers will have to keep working even if funding stopped, knowing full well that they won't see a paycheck for weeks after the end of any shutdown. 
As NPR pointed out on Monday morning, this can be a hassle for federal employees who don't make that much money to being with. One TSA worker, Stacy Bodtmann, who works at Newark International Airport, said that she wasn't going to work if a shutdown happens, and she had some ideas for how Congress could avoid a scenario where she would get in trouble for not coming to work.
"Cut out all the b - - - - - - t and the smiles and the handshakes, and let's just get down to business and get it over with. That's how it would be handled in New Jersey."
Youssef Fawaz, an import specialist at Customs and Border Protection, told the Washington Post that working during the shutdown was "a sort of indentured servitude."
DHS employees considered their department one of the worst places to work in federal government before they even knew another shutdown might happen. Likewise, many TSA officers already dreaded dealing with irritable people at airports, but will hate it even more if they have to do it without being paid. 
The workers can take comfort in the fact that most of the country is also perturbed at Congress. Seventy-eight percent of Americans disapproved of Congress's job performance in the latest CNN-ORC poll. A majority of respondents also think that a shutdown that lasted days — or weeks — would be a crisis or major problem.