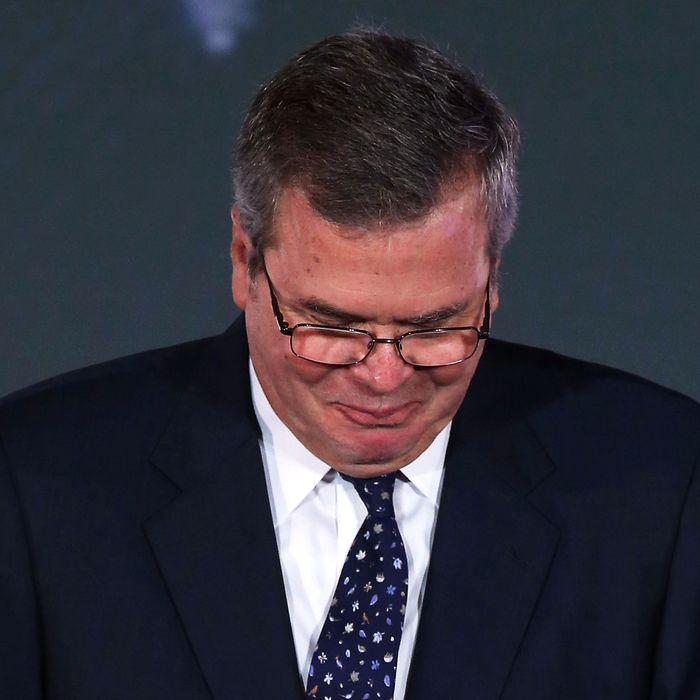 Photo: Mark Wilson/2013 Getty Images
On Friday, Politico magazine identified the one thing that could ruin former Florida governor Jeb Bush's 2016 chances: He's an introvert!
It is horse-race scripture that all presidential candidates must be boiled down to one adjective by the end of the election. The word must be appended to every story profiling the candidate, or the story must be discredited. 
To understand Jeb Bush, you must never forget that he is an introvert.
When Jeb Bush's first social services secretary cajoled him into taking a personality test, the "introvert" diagnosis surprised some among his staff—but not those who knew him for any length of time. In fact, Bush described himself as "antisocial" in a 1988 interview with Women's Wear Daily, and blamed it on his mother. 
Jeb's weaknesses are hiding in plain sight. They've just been obscured by his dazzling success in raising cash. First, he's not a natural politician. Jeb's admirers consider him wonky, hard-working, and principled. But he's also an introvert who doesn't much like to campaign.
George was the impulsive one who'd stumbled and then swaggered toward success. Jeb was the cogitator, the toiler. George was the extrovert: He worked the room. Jeb was the introvert: He read the books.
Jeb is more introverted and more ideological than both his father, George H. W. Bush, whose politics are driven more by personal associations than by doctrine, and his brother, whose conservatism is more instinctual than considered.
It culminated with Jeb Bush — the wonkier and more introverted Bush—on the main stage of the GOP convention, before Mitt Romney's speech, telling everyone to lay off his brother.
Jeb Bush has jumped on the bandwagon too, agreeing with those who have distilled his essence. 
"I'm an introvert …  I would rather read a book than go out and get in a conga line and go dancing."
Jeb Bush, 2005
The governor, who arrived in Washington Wednesday night, offered a different, simple explanation. "Last time, I think I didn't attend many public events either," he said. "I'm an introvert."
If Bush manages to win the presidency, he can take comfort in the fact that all his failures can also be blamed on his taciturn nature.