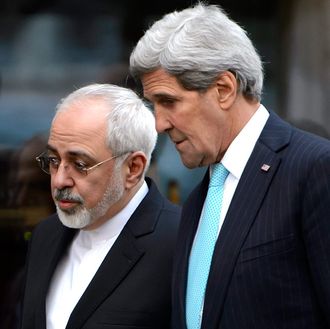 US Secretary of State John Kerry speaks with Iranian Foreign Minister Mohammad Javad Zarif as they walk in Geneva on January 14, 2015.
Photo: Laurent Gillieron/epa/Corbis
Last week in Geneva, U.S. and Iranian officials kicked off another round of talks in an attempt to resolve the long conflict over Iran's nuclear program. While Iran insists it only wants to use nuclear technology for peaceful purposes, and has every right to do so, world powers fear the country is working to develop a nuclear bomb. Since 2003, the international community has repeatedly tried to cut a deal to curb Iran's uranium enrichment program, and both sides are hopeful about the current negotiations. Here's a look at how we got to this potentially historic moment, and what to expect as the final deadline approaches.
When did the negotiations begin?
The conflict over Iran's nuclear program dates back to the '70s (the New York Times has a handy timeline), but the current talks began with the November 2013 accord in which Iran agreed to freeze much of its nuclear activity and accept more international oversight for the first time in more than a decade. In return, six major powers — Britain, France, Germany, China, Russia, and the United States — agreed to scale back sanctions that contributed to Iran's serious economic problems in recent years. (The group is known as the P5+1, for the five permanent members of the U.N. Security Council, plus Germany.)
Even as the two sides praised the deal as the dawning of a new era, there was public disagreement over what it actually meant. Hassan Rouhani, Iran's new, more moderate president, said, "Let anyone make his own reading, but this right is clearly stated in the text of the agreement that Iran can continue its enrichment, and I announce to our people that our enrichment activities will continue as before." However, John Kerry, the U.S. secretary of State, quickly countered that there was "no inherent right to enrich" in the deal, adding, "everywhere in this particular agreement it states that they could only do that by mutual agreement, and nothing is agreed on until everything is agreed on."
The nations were supposed to negotiate a more comprehensive deal within six months, but unsurprisingly they missed that deadline. Diplomats gave themselves another four months to hash out the details, and then in November 2014 they pushed back the deadlines again, agreeing to settle on a political framework by March 31, 2015, and finalize the technical details by June 30, 2015.
What does each side want?
The negotiations are incredibly complex, but broadly, the two sides are haggling over the limits on Iran's ability to produce nuclear material and how long those restrictions would be in place. Israeli prime minister Benjamin Netanyahu, who has been extremely critical of the talks, said the only acceptable deal would be one that leaves Iran with "zero enrichment, zero centrifuges, zero plutonium, and of course an end to ICBM development," but the P5+1 isn't pushing for zero enrichment. Instead, the agreement would cap how many centrifuges, the machines that enrich uranium, Iran could operate.
Iran has about 19,000 centrifuges, 10,000 of which are operating, and the U.S. has reportedly offered to let Iran enrich uranium with around 6,500 centrifuges. (Some of these reports on the terms of the negotiations came via the Israeli media, prompting concerns that Netanyahu's office was leaking the figures, and further straining the U.S.-Israeli relationship.) The Obama administration has argued that those reports are misleading, since Iran's nuclear capabilities would depend on the types of centrifuges they're allowed to operate and the permitted size of their enriched uranium stockpile, not just the number of centrifuges.
The U.S. initially wanted restrictions on Iran's nuclear activities to remain in place for up to 20 years, while Iran was pushing for less than 10 years. The Associated Press reported this week that one plan under consideration would place Iran's uranium enrichment program under strict controls for a decade, then gradually ease restrictions over the next five years if Iran complies with the terms of the agreement. As the New York Times notes, "that would allow the Iranians to say the tough constraints would last for only 10 years and the Americans to say they had a 15-year agreement."
Kerry and Obama have both said that they would only accept a deal with a "breakout time" of at least a year — meaning that if Iran decides to violate the terms of the agreement, it will take a year for it to produce enough fuel for a nuclear weapon. (Of course, that's a complicated calculation, and there's disagreement over how much time it would take Iran to make a bomb.) "We have always said that we would have a one-year breakout time for a double-digit number of years and that remains the case," a senior U.S. official said on Monday, though according to The Wall Street Journal, they would not elaborate on whether the deal would allow a shorter "breakout time" after the first decade.
Another sticking point is the fate of Iran's existing nuclear facilities. Officials say its underground enrichment facility at Fordo may be turned into a research facility, and its heavy-water reactor at Arak, may be redesigned to produce less plutonium, another potential fuel for nuclear bombs.
Iranian officials have suggested that they expect sanctions to be quickly lifted once a deal is reached, but P5+1 want them removed gradually as Iran proves it's meeting its obligations.
What role does the U.S. Congress play?
The Obama administration says the agreement does not require congressional approval because it's not a treaty, but rolling back sanctions on Iran would require cooperation from legislators. Obama can repeal the sanctions imposed via 26 executive orders, but not the ten statutes passed by Congress.
Congressional Republicans, along with some Democrats, are skeptical of the Iran agreement and angry that they are being cut out of the process. Bipartisan legislation introduced last month, despite a veto threat from Obama, would impose new sanctions on Iran if a deal is not reached by the June deadline.
The debate is sure to intensify next week when Prime Minister Netanyahu addresses Congress, but Kerry said while testifying before a Senate Appropriations subcommittee this week that lawmakers should wait to see the deal before taking new action against Iran. "The president has made clear — I can't state this more firmly — the policy is Iran will not get a nuclear weapon," Kerry said. "And anybody running around right now, jumping in to say, 'Well, we don't like the deal,' or this or that, doesn't know what the deal is. There is no deal yet."
Where do things stand now?
Negotiations between Kerry and Iranian foreign minister Mohammad Javad Zarif in Geneva ended Monday. "These talks have been productive," said State Department spokeswoman Jen Psaki. "There's still more work to do." Talks are set to resume next week at a location to be determined.
What happens if they don't reach a deal?
President Obama said earlier this month that if a deal can't be reached by the current deadline, another extension is unlikely. "The issues now are sufficiently narrowed and sufficiently clarified. We're at a point where they need to make a decision," Obama said. "[We] are presenting to them a deal that allows them to have peaceful nuclear power but gives us the absolute assurance that is verifiable that they are not pursuing a nuclear weapon."
The president said the failure of the negotiations would not put the U.S. on "immediate war footing" with Iran, but there could be serious consequences for all parties, from the resumption of Iran's efforts to build a nuclear weapon to sanctions that further cripple its economy and a greater risk of war across the Middle East. "We need to seize this opportunity," said Foreign Minister Zarif. "It may not be repeated."