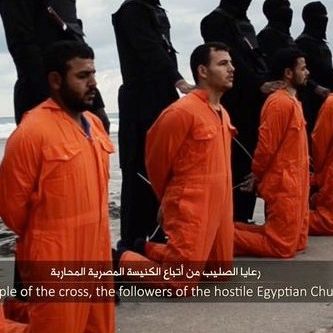 ISIS has released footage that appears to show the mass beheading of 21 Coptic Christians in Libya. (Egyptians frequently travel to Libya in search of work.) The militants in the video, who refer to themselves as the Tripoli Province of the Islamic State group, reportedly kidnapped the men in January. 
ISIS has claimed that the executions were retaliation for the treatment of Muslim women "tortured and murdered by the Coptic church of Egypt." In the video, titled "A Message Signed with Blood to the Nation of the Cross," black-clad executioners march the hostages onto a beach. "All crusaders: safety for you will be only wishes, especially if you are fighting us all together. Therefore we will fight you all together," says one of the militants. "The sea you have hidden Sheikh Osama Bin Laden's body in, we swear to Allah we will mix it with your blood." The Egyptians are then forced to the ground and decapitated. 
While the victims have not yet been officially identified, Egypt has declared a national period of mourning.