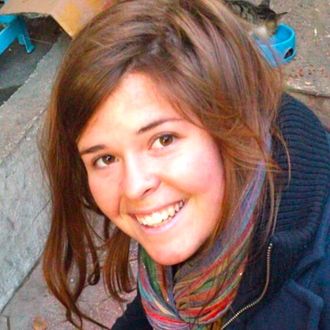 Photo: Courtesy of Mueller Family
Kayla Mueller — believed to be the last American hostage held by ISIS — was killed by a Jordanian strike this week, her captors said Friday. The militants say Mueller was killed near the ISIS stronghold of Raqqa, in northern Syria, in one of the strikes carried out by Jordan in retaliation for the group's execution of a Jordanian pilot. American authorities have not been able to independently verify this claim.
Posts saying that Mueller was killed circulated on Twitter and other social media, with ISIS-linked accounts saying that the same strike didn't kill any militants. They suggested that she was buried under rubble from the building. Jordan, for its part, questioned that claim. "What was a woman doing in their training center or weapons storage facility?" information ministry spokesman Mohammad Al Moumani retorted. "Because those are what we're targeting."
A Phoenix, Arizona, native, Mueller was leaving a Doctors Without Borders in Aleppo when she was kidnapped by ISIS in August 2013. Her identity had been a closely guarded secret by her family and administration officials who feared that calling attention to her plight might make her a greater target for execution. White House chief of staff Denis McDonough slipped up in late January, though, and accidentally revealed her first name while discussing President Obama's hostage policies during a live TV interview. "But Kayla's family knows how strongly the president feels about this and we will continue to work this," he said, prompting the National Security Council to ask that news organizations not use her name.