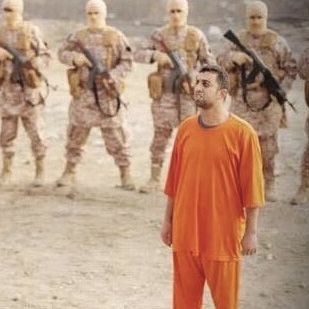 ISIS has released footage that appears to show the gruesome execution of captured Jordanian pilot First Lieutenant Moaz al-Kasasbeh. In the 22-minute video, a bruised Kasasbeh speaks about Jordan's participation in United States–led air strikes against the Islamic State (the 26-year-old's F-16 fighter jet crashed in northern Syria in December). He is then seen standing in a cage, surrounded by heavily armed masked militants. One of the militants lights a trail of accelerant leading to the cage, and Kasasbeh is shown burning to death. 
It's not clear when the horrifying video was made, but Jordanian state television reported that Kasasbeh died a month ago. Tweets attributed to members of ISIS also indicated that Kasasbeh was killed in early January: 
If that's true, then it explains why ISIS apparently refused to provide proof that the pilot was alive last week, when Jordan said that it was willing to trade one of its prisoners (failed suicide bomber Sajida al-Rishawi) for the safety of Kasasbeh and Japanese captive Kenji Goto, who was beheaded over the weekend.