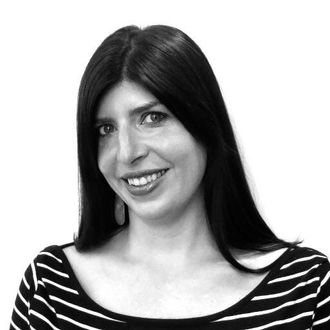 Photo: janebspencer/Twitter
Last year, after it scooped up Felix Salmon, Anna Holmes, Dodai Stewart, Alexis Madrigal, and Daily Intelligencer's own Kevin Roose, along with a lot of other writing and editing talent, Fusion's big-name hiring spree started to become news of its own. Media watchers gawked as influential internet writers announced one by one to their thousands of followers that they were "headed to Fusion," but it also prompted the question: What exactly were they going to be doing there?
Launched in 2013 through a joint-partnership between Disney and Univision rumored to cost $285 million, Fusion was originally conceived as a cable news network for English-speaking millennials with Hispanic backgrounds. It soon pivoted to target all millennials, and today the team launched the new website they've been incubating for over a year. Sleek and graphics-focused, the re-skinned Fusion will feature coverage of pop culture and tech, while also highlighting social-justice causes through verticals like "Justice" and "Voices."
"It's rare to get to work in a place that's committed to serious journalism, innovative experimental projects, and has a mission associated with social justice and social values," says Jane Spencer, Fusion's editor of digital, who spoke to Daily Intelligencer about the relaunch.
So what is Fusion?
We're building a new kind of newsroom to greet the changing demographics of America. Millennials, the group we're after, represent the most diverse generation in American history. Fusion's programming focuses on elevating underrepresented voices and celebrating diversity. While we cover everything from social justice to technology to pop culture, it's those common values that underlie all of our coverage.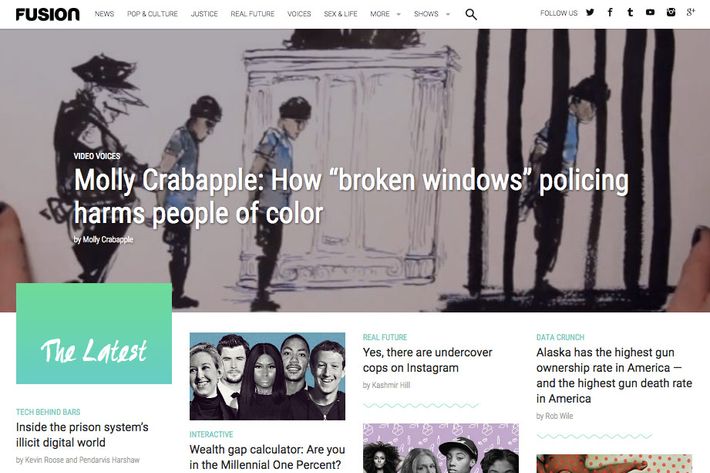 Every news organization seems to be targeting a millennial audience — what are you doing to differentiate yourselves from places like BuzzFeed?
Fusion started as a cable network aimed at a Hispanic millennial audience, and we've grown into a digital audience that's aimed at a diverse millennial audience. I think that's what differentiates us. From the very beginning, we've been focused on elevating underrepresented voices and celebrating diversity. We're based in Miami, so we're really coming at this from a different perspective.
Yes, your headquarters are outside of Miami. Is it difficult to operate outside of a big media city like New York?
We really have three headquarters at the moment. We have our Oakland team, which is run by Alexis Madrigal; we have our New York office, where a lot of the new digital staff is; and we have our headquarters in Miami, where the television network is based. So I think it's refreshing to be a little bit outside of the media bubble, and a lot of interesting stories come our way that I don't think we'd stumble upon in New York.
Are there any features you're launching with that you're particularly proud of?
I'm especially excited for a piece Anna Holmes has coming later this week that covers street harassment in Mexico City. We worked with an incredible artist named Tatyana Fazlalizadeh who did a project called Stop Telling Women to Smile about harassment in Brooklyn. Anna Holmes commissioned her to take the project to Mexico City where street harassment is notoriously bad. The final project, which will be out later this week on our site, is a cross between interactive journalism and public art and social activism, and it's those kind of experiments that get me really excited about what we're doing at Fusion.
Disney has given Fusion a lot of money to launch. What does the company see as a successful return on that investment? Traffic goals? TV audience? Influence?
I think it's all of the above. Part of our overall mission is to be a lab for experimentation and innovation for our parent companies. Univision and ABC want Fusion's help in figuring out how to reach this incredibly dynamic, diverse, and digitally connected audience, so we'll be investing heavily in audience development and technology and transferring knowledge to the parent companies about what we learn.
How much influence do ABC and Univision have over day-to-day editorial operations?
None whatsoever. They're very supportive in terms of helping us distribute our content, but they're not involved in daily editorial operations. In Miami, we share a newsroom with Univision, so we've had some very productive collaborations on reporting in Latin America by partnering with Univision. But there's no daily input in our stories.
How much interaction is there behind the scenes between the TV channel and website?
We work very closely together. A lot of our digital staff appears on the television shows regularly. All of the content from the television shows appears on our website, so we share the same space in the office.
What type of ad model is Fusion pursuing online?
Fusion is uniquely positioned to create cross-partnerships with advertisers that span digital, television, and events. We are preparing to launch a branded content division and looking into ways we can innovate in that space. Obviously television advertising is still far more profitable than digital.
A lot of internet companies are investing heavily in web video right now, and losing money. What is Fusion's approach to web video, and how are you going to get people to watch it?
We're a cable network, so we have a lot of resources around video. One format we're exploring is video commentary. Today we have an awesome hand-drawn animated explainer up by the artist and activist Molly Crabapple, and it's a commentary about the racial bias of broken windows policing. It's a combination of art, spoken commentary, and video, and it's really compelling.
We're also doing a lot with short micro video that lives off our own site on social platforms. We have a stand-alone video series for Instagram called "In Our Lifetime" that explores how the world will change in 100 years or so: things like the sea level rising in Bangladesh or computer-powered cars. We also have a really strong presence on Vine where we do animated pieces that explain the news in six seconds, so some of our best work on video lives off our platform.
How do you plan to monetize that?
That's something that, like everybody else, we're exploring. But we realize that our audience lives on platforms rather than websites — on Snapchat, on Instagram, on Facebook, on YouTube. We want to greet them and build our brand in the places they're spending times.
A Digiday article that came out yesterday said that Fusion's YouTube video subscribers and monthly views sit at just 8,298 and 766,800, respectively. What's your plan to grow that audience?
We're really just pressing the start button today on our new digital platform and we're investing heavily in audience development. We have a new person running that team who just joined us, and obviously building out our YouTube strategy is a key piece of that. Fusion has been around for a year very much focused on the cable channel, and now we're turning to digital and obviously YouTube and all the platforms where people consume digital video will be a huge part of that.
Are the salaries really as good as people joke that they are? Do you guys get paid in diamonds or something?
We work hard to attract the best talent and we've got some fantastic people on our team. At the same time, it's a really fun, exciting, mission-driven place to work and a lot of people have turned down bigger offers to come join us because they thought it would be a great adventure. I mean, it's rare to get to work in a place that's committed to serious journalism, innovative experimental projects, and has a mission associated with social justice and social values. And a lot of people find that quite an appealing draw, including myself.
So what you're saying is you do not get paid in diamonds?
[Laughs.] Not yet.
On a scale of one to ten, how post-text are you?
I think you'll find we're exploring a lot of story formats that involve video and interactive elements. The piece I mentioned by Anna Holmes coming out later this week is a mixture of text and video. We'll tell stories in whatever medium we think we can tell them best, whether it's an interactive, a chart, or a great piece of writing. And we have fabulous writers on our team and they'll be doing a lot of writing.
So, on a scale of one to ten … ?
I would say we're post-post text.