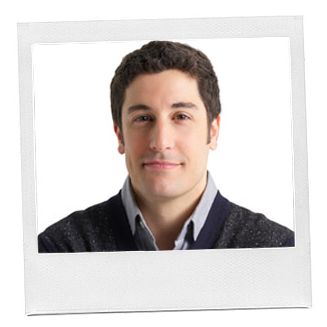 Name: Jason Biggs
Age: 36
Neighborhood: Tribeca
Occupation: Actor. Beginning next Monday, February 23, you can catch him on Broadway alongside Elisabeth Moss and Bryce Pinkham in The Heidi Chronicles.
Who's your favorite New Yorker, living or dead, real or fictional?
Andy Warhol.
What's the best meal you've eaten in New York?
Waaaay too many to pick one. But I'm a man of extremes, so I'll say the all-white-truffle tasting menu at Daniel, and the pastrami on rye at Katz's with a blueberry knish from Yonah Shimmel for dessert.
In one sentence, what do you actually do all day in your job?
I try to entertain people so that I may win their approval and feel better about myself.
What was your first job in New York?
When I was 5, I modeled on some show called Looking Good With Pat George. I looked really good.
What's the last thing you saw on Broadway?
Constellations with Jake Gyllenhaal and Ruth Wilson. Man, they were both incredible.
Do you give money to panhandlers?
Sometimes. I'm more likely to give whatever food or snacks I have on me.
What's your drink?
These days, club soda and lime. Yeeeah! Where the party at?
How often do you prepare your own meals?
In L.A., a few times a week. Here, a lot less. Once every few weeks.
What's your favorite medication?
Zoloft. God bless you, Zoloft.
What is the best thing in or about your apartment?
The Hudson River Park is across the street.
What's the craziest thing you've ever seen on the subway?
A guy was smoking a cigarette on the train just the other day. Like, a subway car full of people. And he just lit up. A dad and his young kid were sitting across from him. It was very Twilight Zone–y. We were all waiting for Ashton Kutcher to appear.
When was the last time you stayed out past 3 a.m.?
I have a 1-year-old. So, at least one year and nine months ago.
Which do you prefer, the old Times Square or the new Times Square?
Old Times Square. I miss the old signage — Peep Land, Tad's Broiled Steaks, Howard Johnson's. Though I certainly don't miss its disproportionately high crime rate.
What do you think of Mayor de Blasio?
Fantastic name! Not quite Fiorello La Guardia, but still rolls off the tongue nicely.
What do you hate most about living in New York?
Those slush puddles that extend four feet from every corner for days after a snowstorm.
If you could banish one person from New York forever, who would it be?
Well, that guy who lit up on the subway makes a pretty good case for banishment.
When's the last time you drove a car?
Two months ago in L.A. That reminds me, I need to have a friend start my car so the battery doesn't die.
Finish this sentence: The NYPD _____.
… should take me on a ride-along! I promise I won't get in the way.
Times, Post, or Daily News?
The Times. Especially Sunday and the magazine. But I do enjoy an occasional "Page Six" indulgence.
Where do you go to be alone?
I hop on my bike, put my music on, and ride the path from my place up to Fort Washington Park under the GW. It's another world up there. So beautiful.
What makes someone a New Yorker?
Hmm. Knowing where Fort Washington Park is?