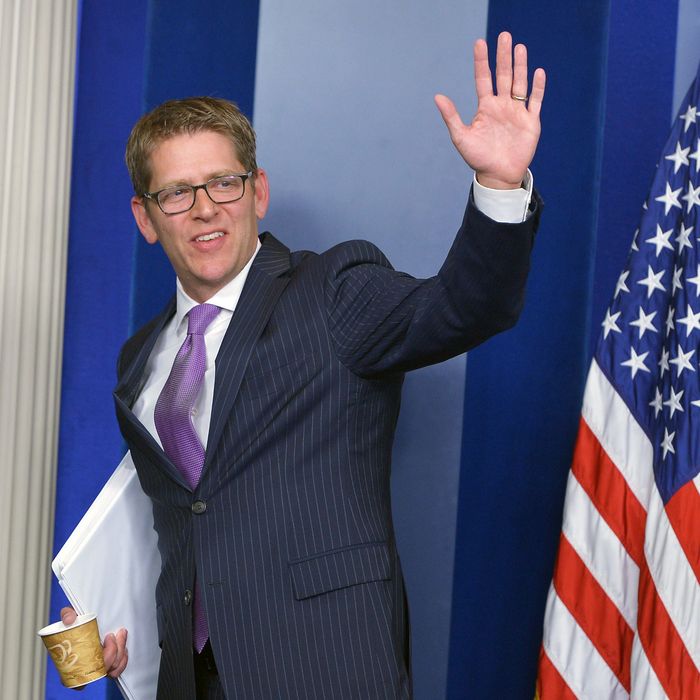 Photo: Mandel Ngan/AFP/Getty Images
In the old days, administration officials reliably headed to K Street or Wall Street after they were done in the White House. Today, they also head to Silicon Valley. 
This morning, Politico broke the news that former White House press secretary Jay Carney is joining not Goldman Sachs or Patton Boggs, but Amazon, where he'll manage the lobbying and public-relations teams and report directly to Jeff Bezos. 
He joins a long list of staffers signing up with cash-rich technology firms. Before him, campaign guru David Plouffe joined Uber. Deputy chief of staff Alyssa Mastromonaco became the chief operating officer at Vice. Former economic official Larry Summers signed on with Lending Club. Gene Sperling, another economic adviser, went on Ripple Labs' board of directors. Aneesh Chopra founded a data analytics firm. The list goes on.
It's a new trend, but hardly a surprising one, given each side's wants and needs. What do former Obama administration officials have to offer? A deep knowledge of government processes and regulations. Ties to current officials in the White House and on the Hill, as well as donors and other bigwigs. In some cases, excellent management expertise. And what do they need? Money, among other things. 
Technology firms, for their part, have been on a hunt for Washington know-how, given the regulatory and legal hurdles their businesses face. And given the venture capital, corporate profits, and institutional cash lying around, they have been willing to pay through the nose to get it.    
There might be a few less cynical factors at work, as well. I once asked a former Obama official who had gone to Wall Street why he did it, given the inevitable eye rolling his career move ginned up. It was not the money so much as the intensity that he needed, he said. He had spent years in a hyper-demanding environment, surrounded by hyper-intelligent people. Every day, he felt like he was part of something historic, monumental, dynamic. Wall Street promised him that same hothouse environment. 
To be sure, that answer itself stoked a little eye rolling. Would he have gone to Wall Street if he weren't being amply compensated for it? I doubt it. He'd probably have signed up for a boring but lucrative job and taken up rock climbing or parkour or what have you. Still, the desire for the kind of intensity, importance, and dynamism the White House offers seems real enough.
Then there is the prestige factor. Former politicos, whether from the Hill, the regulatory agencies, or the White House, take a considerable amount of flak for heading to Wall Street. It is seen as the crassest form of selling out, particularly in the post-financial-crisis era. But Silicon Valley retains a more positive sheen. In one recent survey, for instance, the "computer" and "internet" industries had vastly more favorable ratings than the "banking" industry. Another found that Amazon, Apple, and Google had great reputations, while Goldman Sachs had among the worst of the big companies surveyed.       
The reputation is great. The industry is dynamic. The businesses are head-hunting. And the money's good. For former White House staffers, what's not to like?