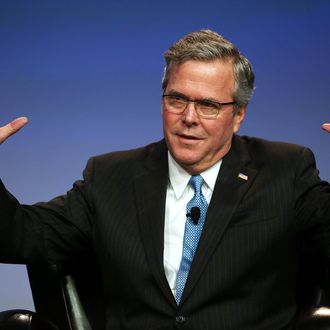 Jeb Bush.
Photo: Justin Sullivan/Getty Images
Only Tuesday morning, likely Republican presidential candidate Jeb Bush launched a website containing all of his emails from the eight years he spent as Florida's governor. Unfortunately, as the Verge first noted, this effort at transparency was too transparent: No one bothered to remove all of the full names, addresses, phone numbers, social security numbers, and other personal information included in Bush's communications with the people of Florida. Additionally, the Verge found several emails in which Bush's interlocutors gave highly detailed descriptions of their employment and medical situations. 
When asked about the apparent screw-up, a Bush spokesperson pointed out that the emails are an "exact replica" of those at Florida's State Department, which are "available at anyone's request under Chapter 119 sunshine laws." Of course, such requests are generally a little more specific than every single available document, to be published online for everyone to see. 
Shortly after the Verge's report, Time's Zeke J. Miller spoke to Bush, who assured him that his team will redact the personal information, though it's unclear how long that will take. And here we thought the nascent campaign's biggest technology problem was its CTO's old tweets about gays and "sluts."