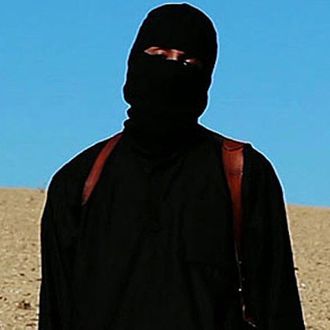 The Washington Post believes it has identified "Jihadi John," the ISIS fighter with the British accent whose brutal beheadings of international hostages like American journalist James Foley have made him one of the most wanted terrorists in the world. According to the Post, "Jihadi John" is Mohammed Emwazi, a "well-to-do" West Londoner with a college degree in computer programming. 
One of Emwazi's close friends, as well as a British human-rights-group employee who was previously in contact with him, confirmed Emwazi's identity to the Post. Born in Kuwait and known for wearing "stylish clothes," Emwazi is believed to have started to radicalize after being detained and deported during a planned safari in Tanzania with three friends after his college graduation.
In emails reviewed by the Post, Emwazi claimed the British spy agency M15 accused him of trying to reaching Somalia to ally with the militant group al-Shabab. Emwazi denied the claims, but the Post cited one of Jihadi John's hostages saying that he frequently made his captives watch videos from al-Shabab.
Emwazi eventually got engaged and decided to move back to Kuwait, where he had secured a programming job. But after flying between Kuwait and London a handful of times, he was detained in London and not allowed to return to Kuwait. 
"I feel like a prisoner, only not in a cage, in London," he wrote in an email obtained by the Post. "A person imprisoned & controlled by security service men, stopping me from living my new life in my birthplace & country, Kuwait."
After an attempt to move to Saudi Arabia to teach English failed, Emwazi is believed to have slipped into Syria sometime in 2012, where he eventually joined up with ISIS.
If Jihadi John is Mohammad Emwazi, that would mean the previous suspect, London rapper Abdel-Majed Abdel Bary, is off the hook on this one.