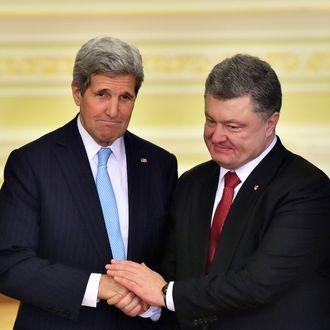 Photo: Sergei Supinsky/AFP/Getty Images
As the crisis in east Ukraine continues to escalate toward a full-out war, Secretary of State John Kerry visited the country's capital, Kiev, and named names when discussing the aggressors in this case. "We talked about the largest threat that Ukraine faces today, and that is Russia's continued aggression in the east," he said of a meeting with top Ukrainian leaders, abandoning all pretense that there's a chance Russia isn't arming and fighting with the rebels in Donetsk and Luhansk.
"There must be an immediate commitment now to a real cease-fire, which is not just a piece of paper," Kerry said, calling on Russia and the rebels to "support and honor the commitment they made to implement a cease-fire, to pull back heavy weapons and troops." (Cease-fire agreements have been woefully short-lived in Ukraine.) As the United States weighs arming Ukraine with heavy weaponry to help fight off the Russian-backed rebels, Kerry announced $16.4 million in humanitarian aid for the embattled Donbass region, where people have been living under warlike conditions for months.
Meanwhile, other world leaders — like German chancellor Angela Merkel and French president François Hollande — have also descended on Kiev, where they met with Ukrainian president Petro Poroshenko. They are now headed to Moscow, in hopes that they, too, can help broker some sort of no-win agreement that will stop bloodshed in the contested regions.