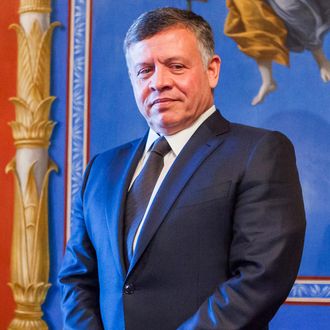 Photo: Samuel Corum/Anadolu Agency/Getty Images
After ISIS released a video showing a Jordanian air pilot being burned alive, the country swiftly retaliated by executing Iraqi militant Sajida al-Rishawi. Now Jordan has upped the ante, launching air strikes against key ISIS strongholds.
In a meeting with the House Armed Services Committee yesterday, Jordan's King Abdullah II pledged to exact revenge on ISIS just like Clint Eastwood in Unforgiven. According to the Washington Examiner:
"He said there is going to be retribution like ISIS hasn't seen," said Republican Rep. Duncan Hunter Jr., a Marine Corps veteran of two tours in Iraq and one in Afghanistan, who was in the meeting with the king. "He mentioned 'Unforgiven' and he mentioned Clint Eastwood, and he actually quoted a part of the movie."
According to the AP, King Abdullah made good on his promise; Jordan conducted air raids against ISIS targets Thursday morning, though officials declined to provide information about what country they took place in.
There have also been rumors that King Abdullah, a trained army pilot, will participate in the air strikes himself, a move surely as badass as any in Unforgiven.