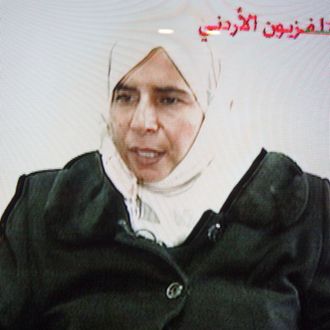 Hours after ISIS released a video showing the execution-by-fire of Jordanian pilot Moaz al-Kassasbeh, his government pledged to avenge his death by expediting the execution of Sajida al-Rishawi, the woman militants tried to trade for Japanese journalist Kenji Goto. Jordan said its response would be "strong, earth-shaking and decisive," and Reuters reports that it has followed through. Al-Rishawi was hanged at dawn along with Ziad al-Karbouli, a top Al Qaeda operative.
Both prisoners had already been sentenced to death for committing acts of terrorism. Al-Rishawi was on death row for her role in the 2005 Al Qaeda–orchestrated attacks on luxury hotels in Amman, which killed more than 57 people. She was supposed to die in the bombings, but her vest did not detonate. Al-Karbouli was an Al Qaeda in Iraq lieutenant who allegedly planned the attacks. The executions are a clear answer to the question of whether Kassasbeh's capture will make the country back out of the war on ISIS or plunge into it with renewed force.
ISIS made the puzzling choice of offering to release Goto in exchange for al-Rishawi, though the Japanese government had no power to broker the trade. In the video, Goto held a photograph of Kassasbeh — whom ISIS promised to kill if al-Rishawi was not released, in addition to Goto. But rumors percolating online suggest that ISIS may have killed the Jordanian pilot in January, before deciding to broker a trade for al-Rishawi — a move that would explain why the video only showed still photos and didn't let the pilot speak for himself.
This post has been updated throughout.