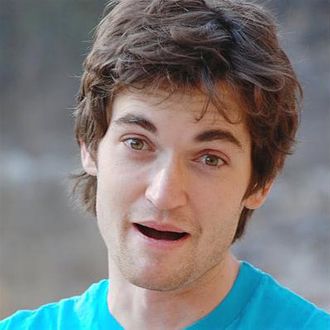 A jury has found Ross Ulbricht, the 30-year-old founder of online black market Silk Road, guilty of several charges, including money laundering, computer hacking, and narcotics conspiracy. The jury began deliberations around noon and took no more than four hours to reach a decision on all seven of the charges.
Prosecutors alleged that Ulbricht was the pseudononymous libertarian mastermind Dread Pirate Roberts, who ran a platform that allowed users to trade the cryptocurrency Bitcoin for illegal goods and services such as drugs, weapons and malicious software. They had significant evidence to back up their claims, including chat logs, screenshots, and diary entries that seemed to implicate Ulbricht. But throughout the wacky trial, Ulbricht's defense attorney, Joshua Dratel, argued that though Ulbricht had created Silk Road, he soon transferred control of it to a third party, who set up Ulbricht to be the drug empire's "fall guy."
The jury didn't buy that claim, and just before 4 p.m. on Wednesday found Ulbricht guilty of all counts. He faces life in prison.
This is a developing story.