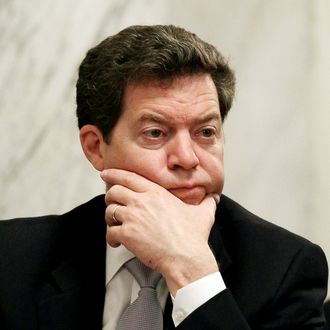 Photo: Mark Wilson/2010 Getty Images
Kansas Governor Sam Brownback set the state's equality record back a decade on Tuesday when he issued an executive order that will once again make discriminating against state employees based on their sexuality legal. What year is it again?
Brownback made the decision to reverse a 2007 executive order by the state's former Democratic governor that extended discrimination protections to LGBT state employees, saying that the law should have been passed through the legislature instead of "unilateral action." Meanwhile, his new ruling means that "state employees in Kansas can now legally be fired, harassed or denied a job for being gay or transgender," writes the L.A. Times.
"If you work for the state and have felt comfortable being 'out' at work knowing you had protection from bigotry, that protection is gone," said Thomas Witt, head of Equality Kansas.