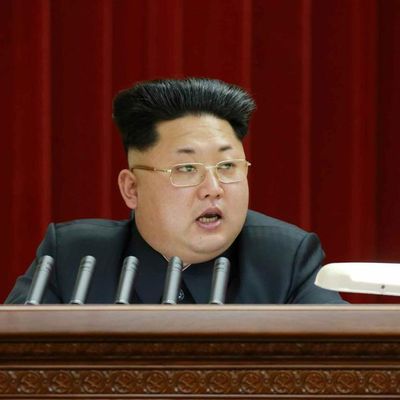 Kim Jong-un is getting really into Fashion Week. Feeling inspired by feats of runway hairstylists, he showed off a new do at yesterday's politburo meeting. Kim kept the sides of his cut traditionally high and tight; the real eye-catcher is his gravity-defying coiffure, which resembles a glossy black trapezoid.
He paired the style with barely there brows shaved to end just over his pupils, a brave departure from the current full eyebrow trend. His face appears slightly rounder than usual, which only accentuates the Hair.
Questionable hair is a tradition in North Korean leadership, but Kim's father, Kim Jong-il, never attempted anything quite so daring. We'd love to know the Supreme Leader's preferred brand of mousse.