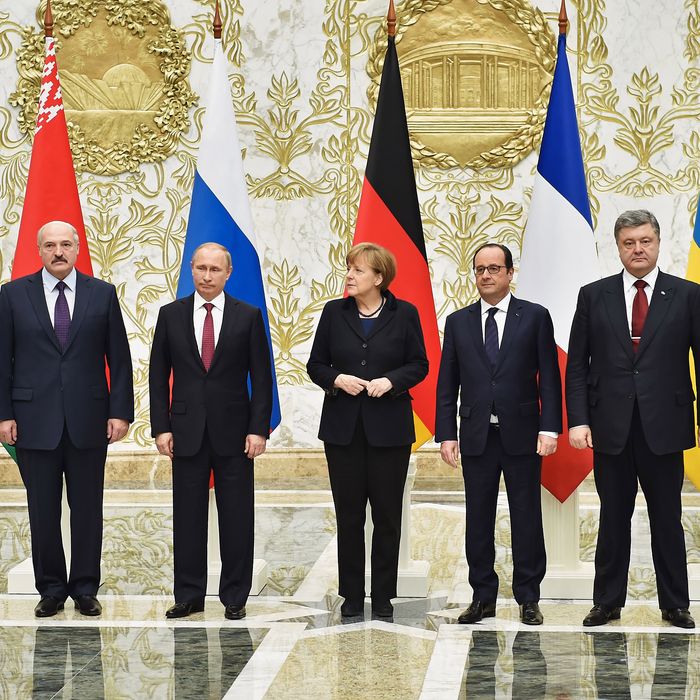 The Minsk talks.
Photo: Nikolay Lazarenko/Kommersant Photo via Getty Images
Frenzied talks in Minsk led to a cease-fire agreement for the rebel-held regions of Ukraine on Thursday morning, with leaders of Russia, Ukraine, France, and Germany coming to terms on a 13-point plan that would end fighting on Saturday morning. But commentators around the world have noted that the resolution doesn't address many of the key factors driving the war — so this cease-fire might reasonably be considered as likely to collapse as previous ones. 
The main points of the loosely agreed-upon plan include a cease-fire starting at midnight on Saturday; a bilateral withdrawal of heavy weaponry, as well as monitoring to ensure compliance; a dialogue on elections and amnesty for rebel leaders; release of hostages held by both sides; access to aid and restoration of social and economic links to affected areas; re-establishing a state border; constitutional reform; and withdrawal of foreign military forces.
German Chancellor Angela Merkel emphasized the work yet to be done after the initial agreement, adding that the leaders have "no illusions" that this is the end of the road. The rough agreement on ending a conflict that has claimed more than 5,000 lives took more than 16 hours of talks.
Russian leader Vladimir Putin, whose government has been accused of arming separatist rebels in Ukraine and even sending troops to fight alongside them, declared that Thursday's agreement means the sides have agreed on the "main points" of a compromise — issues like withdrawal of heavy weaponry and special status for rebel-held regions. Meanwhile, equally stubborn Ukrainian president Petro Poroshenko reportedly focused on addressing humanitarian issues like prisoner exchanges, particularly concerning Nadia Savchenko, a captured pilot who has become a symbol of the conflict in Ukraine. A long-term resolution, though, isn't the sense you get from these tweets: