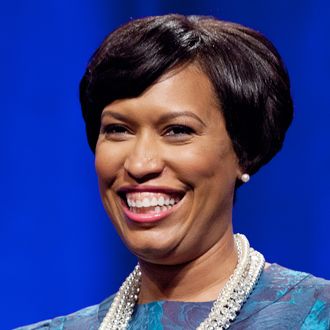 Photo: Carolyn Kaster/Corbis
At midnight, the District of Columbia is scheduled to legalize pot, allowing residents and visitors to possess, trade, and smoke small quantities of marijuana. But not if the Hill has anything to do with it. 
It's a local government versus federal government showdown, with a member of Congress going so far as to issue a threat about jail time to Muriel Bowser, the District's new mayor. "Federal law, signed by the president, confirms that D.C. cannot move forward," Representative Jason Chaffetz, a Utah Republican, told the Washington Post. "If they are under any illusion that this would be legal, they are wrong. And there are very severe consequences for violating this provision. You can go to prison for this. We're not playing a little game here." 
But local officials have vowed to forge ahead, given that more than two thirds of D.C.'s voters supported legalization in November. "If the Republican Congress, which can't decide how to keep open one of its premier security agencies, the Department of Homeland Security, wants to pick a fight with the District over our local marijuana reform law," retorted Eleanor Holmes Norton, D.C.'s non-voting congressional delegate, "a fight is what they will get." 
One way or another, District residents are getting ready to smoke and bake without fear of punishment starting at midnight, provided they are in a home and over the age of 21. Indeed, there's a whole raft of rules. 
Among them: A person can grow a maximum of six plants, only three of which can be mature and flowering at any given moment. They can give away and receive pot, but not buy it. On federal land — meaning the National Mall, the White House, the National Parks that thread through the city, federally subsidized public housing, and the Capitol — possession and use remain forbidden. And D.C. police officers will still be able to interfere with people smoking marijuana in public, which those attending this weekend's cannabis convention in D.C. should keep in mind. 
For that reason, D.C.'s local and national pot activists described the moment as a gentle high: Little will change for most of the District's recreational users, they predicted. "Right now, most people buy cannabis illegally, and we expect that people will continue to do that," said Nikolas Schiller of the D.C. Cannabis Campaign. "The difference is that they don't have to worry about cops breaking down their door if they're smoking." 
He said that purchasing accessories might be an easier process. "It allows for the sale of what was formerly known as paraphernalia," he said. "And I anticipate people going out and buying growing equipment." He added: "It opens up opportunities for some gardening classes."
To that end, activists are planning a marijuana-seed giveaway, and "cannabis clubs" are likely to open up shop in the District, testing the legal murkiness around its pot laws. What if you could pay, say, $50 a month to join a pot social club, whose benefits included access to a community of growers willing to trade weed for free? Bowser, for one, is against the idea and is pushing for legislation to block cannabis clubs before any spring up. 
Fearing those clubs and all that smoking and growing, a number of Republican members of Congress have sent a letter to Bowser arguing that legalization would be a "knowing and willful violation of the law," since the continuing resolution funding the government passed last December specifically said the District could spend no money on marijuana legalization. 
For its part, the city argues that the language in the rider did not restrict the city's ability to legalize possession — the whole thing veered into a Clintonian debate over the meaning of the word enact. It was not the way that local officials wanted it to happen. But they chose to side with voters and keep residents out of jail on minor charges. 
In the future, the two sides could end up in a budgetary-slash-legal battle to resolve the issue — particularly if Bowser pushes ahead on creating a legal, pay-for-it market for weed, as she has said she would like to do. "It's pretty clear that 71 takes effect," said Robert Capecchi of the Marijuana Policy Project, referring to D.C.'s voter initiative. "There's the broader question of whether the council and mayor can control a market, like the states of Colorado and Washington have done, and Alaska and Oregon are doing. We think there's a good argument they can." 
The whole saga is a useful reminder of how confusing it can be to be a city without a state that also has the privilege of hosting the federal government for all eternity. And it is only one of many instances of state and federal laws colliding when it comes to marijuana, with any number of knock-on consequences. Banks won't accept marijuana businesses as account holders for fear of breaking federal law, for instance. And a different president managing a different Department of Justice could quash any number of local legalization initiatives and throw growers, sellers, and users in jail. 
For now, though, the future looks beautifully hazy for D.C.'s pot enthusiasts. And the work goes on for its lobbyists and activists. "I'm going to be incredibly happy when it turns midnight," Capecchi said.