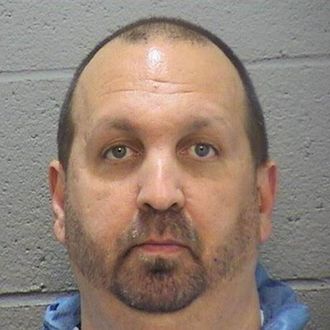 Photo: Chapel Hill Police
Forty-six-year-old Craig Stephen Hicks has been arrested for allegedly shooting to death a Muslim couple and their sister near University of North Carolina. Deah Barakat, his wife Yusor Mohammad, and her sister Razan Mohammad were found dead in an apartment complex in Chapel Hill around 5 p.m. Tuesday. Hicks turned himself in without incident. 
NBC News reports that Razan was a student at North Carolina State University, and Yusor was planning to enroll at the UNC School of Dentistry. Her husband was a second-year dental student raising money to travel to Turkey to treat Syrian refugees with dental issues.
No clear motive has been reported for the killings, but Chapel Hill police told a local news station that an "ongoing dispute over parking" may have been a factor.
After news of the incident broke, the hashtag #MuslimLivesMatter went viral on Twitter, where users protested a lack of media attention and debated whether the shooting was a hate crime. The Washington Post reports that Hicks has a history of anti-religious postings on his Facebook page, where he penned such missives as, "People say nothing can solve the Middle East problem, not mediation, not arms, not financial aid. I say there is something. Atheism." 
TPM reported that according to his Facebook page, Hicks was also a gun nut who hated Mitt Romney, advocated for gay rights and frequently criticized the religious right.
On Wednesday morning, the Council on American Islamic Relations released the following statement regarding the crime:
Based on the brutal nature of this crime, the past anti-religion statements of the alleged perpetrator, the religious attire of two of the victims, and the rising anti-Muslim rhetoric in American society, we urge state and federal law enforcement authorities to quickly address speculation of a possible bias motive in this case.