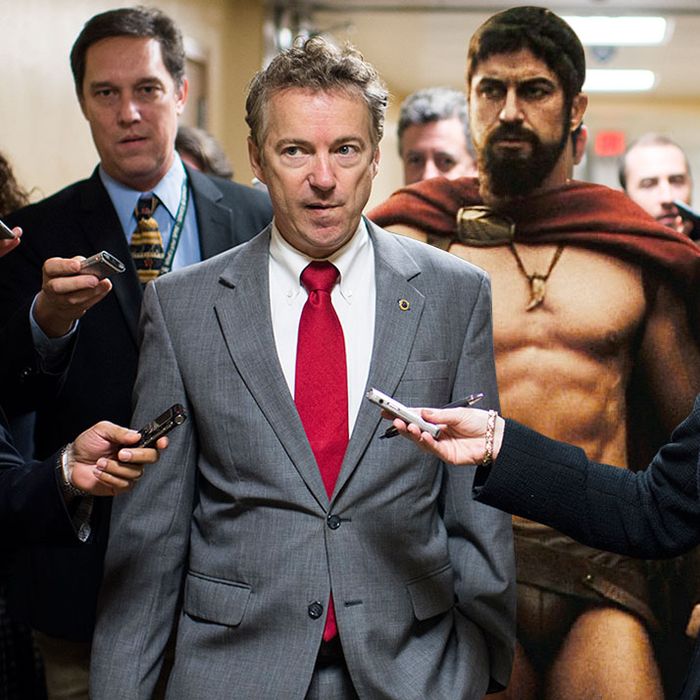 A new recruit in the war for 2016 clicks.
Photo: Bill Clark/CQ Roll Call; Warner Bros.
Judging from recent coverage of the upcoming presidential election, which still has all the flash-bang fizziness of a trailer for a summer blockbuster still eight months away, 2016 is going to be an especially gruesome and action-packed affair.
People involved have already thrown darts, fired back, traded barbs, attacked, struck back, predicted mutually assured destruction, and initiated death struggles and bloodbaths.
Media organizations, which have been carefully documenting the violence, have begun preparing for battle, too, albeit a slightly different one than the conflict over the White House. It is a civil war over a coveted resource nearly as ephemeral as political power: clicks.
The territorial dispute over the internet has led publications to begin assembling troops — Bloomberg and CNN have each hired 20 or more new employees to cover the campaign, while dozens of other outlets have hired dozens more — in the hopes that they can best their opponents by brute force, or, if nothing else, in a war of attrition.
Regardless of who wins in 2016 — whether the prize is the presidency or simply the morning — you can be sure that you will be able to track every millisecond, thanks to the hundreds of people who will be writing about "the biggest story of any kind in America" every single hour for the next 500 days.