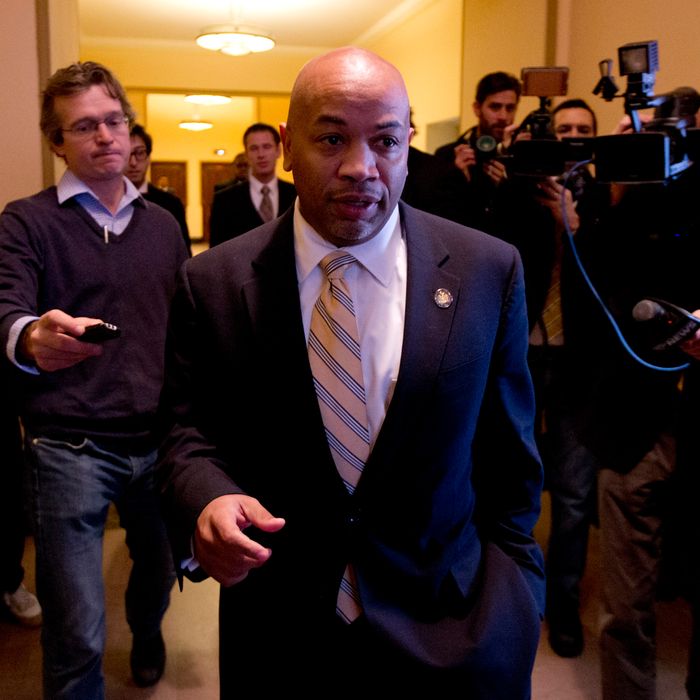 New York Democrats have found a replacement for Sheldon Silver, and despite all the talk about reforming Albany, in many ways the new Assembly speaker is a lot like the old one. Silver's resignation following his arrest last month on federal corruption charges took effect one minute before midnight on Monday. Several hours before his 21-year reign as speaker ended, Democrats had already decided on his successor. Following a private meeting on Monday afternoon, Democrats announced that they will cast their ballots for Assemblyman Carl Heastie of the Bronx at an 11 a.m. vote on Tuesday, making him New York's first African-American Assembly speaker. 
Democratic Assembly members initially said every candidate would have a chance to make their case before a vote on February 10, but the Times reports that in recent days party leaders quickly settled on Heastie and gathered up the needed votes. Several rivals dropped out over the past few days, and when Assemblywoman Catherine Nolan conceded that she did not have the votes to win on Monday, Heastie was left unopposed. "We made a commitment to a more transparent process," Nolan said, "and it was a lost opportunity. But I'm not ashamed to say I lost. I did the best I could."
The manner of Heastie's selection isn't the only thing that rankled those hoping for change in Albany. Heastie, a 47-year-old former budget analyst for the New York City Comptroller's Office, was first elected in 2000, and his legislative record is thin. He's passed nine bills in the last three years, including measures to raise the minimum wage, increase penalties for wage theft, and add the light-green taxis for New York's outer boroughs. He voted against same-sex marriage several times, then supported the measure in 2011, when it became law. One controversial bill he sponsored would have allowed payday loans, which are illegal in New York, with check-cashing stores offering loans with as much as 200 percent interest. Heastie received a $10,000 donation from the check-cashing industry, but claimed the money went to a county dinner, not his personal campaign, and had no influence on him.
Heastie was one of 28 lawmakers flagged by the anti-corruption Moreland Commission for having more than $10,000 in campaign expenses from 2008 to 2013 that were not itemized. However, he was not one of the 12 people under investigation by the commission before it shut down. According to his latest ethics filing, his only outside income is the $5,000 he makes as an adjunct professor at Monroe College, and he has $21,000 to $50,000 in credit card debt.
Heastie said he would give up all other income if he became speaker, and vowed to pursue ethics reforms, such as making the legislature full-time and limiting or eliminating outside income. "We must seize this opportunity for reform and enact the type of lasting change that will make the Assembly more open, transparent and accountable to the voters," he said in a statement.
One member of the Assembly seemed excited about Heastie's surprising rise to power, or as excited as he can be under the circumstances. Silver, who is not resigning from the Assembly, attended Monday's private meeting among Democrats ("to the amazement of some lawmakers," writes the Buffalo News) and cast his vote for Heastie. "He's a good man and he'll do a good job," Silver said as he left the Capitol as speaker for the last time.