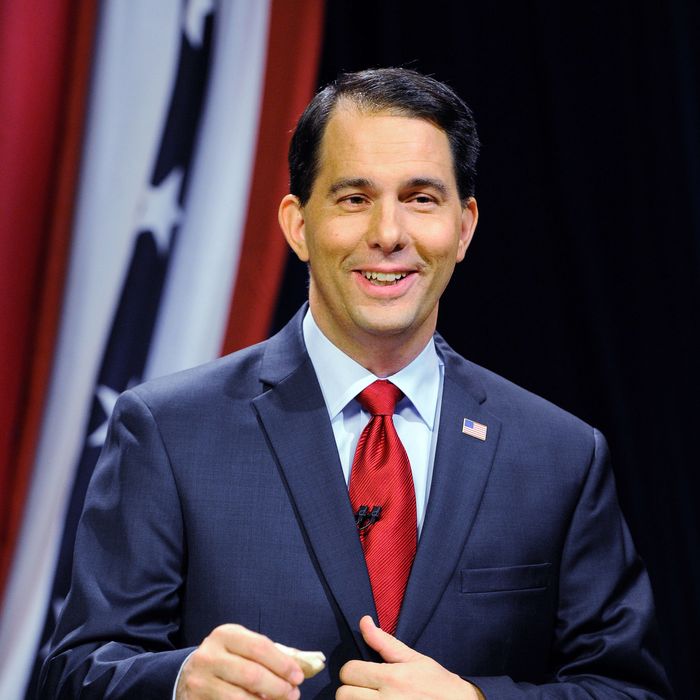 Wisconsin Governor Scott Walker.
Photo: Benny Sieu/Corbis
Scott Walker has had a very good week. His visit to New York turned into a publicity bonanza, casting him as a partisan stalwart, victimized by the liberal media and unwilling to capitulate to its left-wing premise that the president of the United States loves America. He courted important segments of the Republican Party, such as social conservatives and anti-tax fanatics. Having already smashed his state's public sector unions, he is poised to smash its private sector ones as well.
The conventional wisdom, as embodied by Politico's Mike Allen, casts Jeb Bush as the front-runner. "Barring a major disruption in the force field," writes Allen, "it's looking like Hillary vs. Jeb, and the same might still be true a year from now." That "disruption," if you want to call it that, has already taken place.

Early polls have limited value, but they are not useless. The great drawback of advance polling is that name recognition plays an outsized role. So polling that shows, say, Ben Carson drawing first-rank support should be ignored, since Carson is a media celebrity with no serious constituency inside the party.
A new Quinnipiac poll showing Walker leading in Iowa is more telling. The revealing data is not so much the top line numbers (Walker stands at 25 percent, with the next-highest candidate, Rand Paul, pulling 13 percent, and Bush at 10 percent). What's more interesting is the favorable numbers. Walker receives 57 percent favorable ratings, against just 7 percent negative. Jeb Bush has a miserable 41 to 40 percent favorable rating among Iowa Republicans. That is a plus 50 percent favorable rating for Walker against plus 1 percent for Bush.
The Republican race will be shaped in large part by party elites, but the polling helps show which elite-supported candidate has the best ability to win the people. That candidate looks like Walker, who has compiled an arch-conservative record, especially on the economic issues prized by the Republican fundraising class. Despite his generally conservative record, Bush has already taken on significant liabilities by endorsing immigration reform and the Common Core curriculum standards. If I had to pick a front-runner at this point, I'd pick Walker.
Update: The original version of this post described Common Core as a "curriculum." It is actually a set of standards.