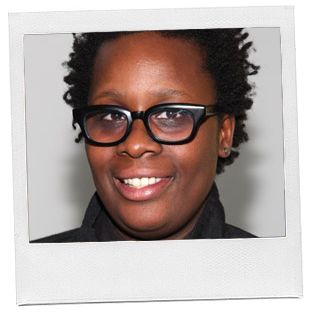 Name: Mickalene Thomas
Age: "40 plus"
Neighborhood: Fort Greene
Occupation: Visual artist. She recently collaborated with Bedell Cellars to design a label for their First Crush 2013. Pick one up for Valentine's Day!
Who's your favorite New Yorker, living or dead, real or fictional?
Matilda Joslyn Gage.
What's the best meal you've eaten in New York?
I had amazing sushi at Masa on Columbus Circle. I'm a sushi aficionado and I have a list of places that I want to try. I wanted to start there first and work my way down.
In one sentence, what do you actually do all day in your job?
Micromanage, make art, eat, and say yes or no.
What was your first job in New York?
At Publicolor, when I was 25 and had just moved here from Portland, Oregon. It's a fantastic after-school program that beautifies New York public schools and community centers with really bright colors and paint, designed by Ruth Shuman. They're doing really great things in art education and New York City, and actually just won a National Arts+Humanities Youth Program Award, awarded by Michelle Obama. 
What's the last thing you saw on Broadway?
All the Way with Bryan Cranston. Fantastic play about LBJ and MLK, which is appropriate of the times. 
Do you give money to panhandlers?
Occasionally. I did yesterday at the gas station on Eleventh Avenue across from the Sean Kelly Gallery. It's usually based on the story that's told. It doesn't matter whether it's true or false, just how convincing it is and how I feel at that moment. And if I have cash on me.
What's your drink?
Negroni or Aperol Spritz, both old European drinks. And First Crush, of course.
How often do you prepare your own meals?
At least three times a week. I cook for my daughter a lot, so it's easy to cook for myself when I'm cooking for her. It's a lot of farm-to-table, so tonight she's going to have some arctic char with sautéed greens and some white beets, maybe.
What's your favorite medication?
I participate in kickboxing and vocal lessons on a weekly basis as a form of relaxation, versus medication.
What is the best thing in or about your apartment?
The light that comes in from the windows, and my backyard. My backyard is great. Nice, open, a really tranquil place. It's not something I take for granted. Not many people have a backyard in New York, so I try to make the best use of mine.
What's the craziest thing you've ever seen on the subway?
Many years ago, I was a student at Pratt, and subways were really crazy then. (They're still crazy; I think just a different type of crazy.) I saw this guy masturbating and I remember being with a couple of friends and us running to the next train. But today I'm embarrassed to say that I'm not really a subway person. I do take the subway when I have to, but it's not my first means of transportation. I think it sort of shook me up when I was stuck down there during the blackout, with some students from Publicolor. I never really got over that experience.
When was the last time you stayed out past 3 a.m.?
January 14. I was up late contemplating whether I should work on a project. Someone landed a script on my lap and I stayed up late reading it.
Which do you prefer, the old Times Square or the new Times Square?
Definitely the old Times Square. It's interesting because it was a really sort of crazy under-culture of different types of people walking around expressing themselves, and trying to make their dreams happen. Now you just don't have that anymore.
What do you think of Mayor de Blasio?
I think I'm only thinking about him because you asked me this question.
What do you hate most about living in New York?
The stench of constant trash. I just wish New York could be a clean city.
If you could banish one person from New York forever, who would it be?
Now, that's a mean question. I don't want to banish anybody from New York! Okay, how about sex traffickers?
When's the last time you drove a car?
On Monday, I drove back from Connecticut. (I have a house out there.)
Finish this sentence: The NYPD _____.
Blue?
Times, Post, or Daily News?
Times. I'm a Times girl. Because Roberta Smith always writes about me. She's not writing about me in the Post or the Daily News!
Where do you go to be alone?
Home.
What makes someone a New Yorker?
Subscribing to The New Yorker magazine, or the New York Times.