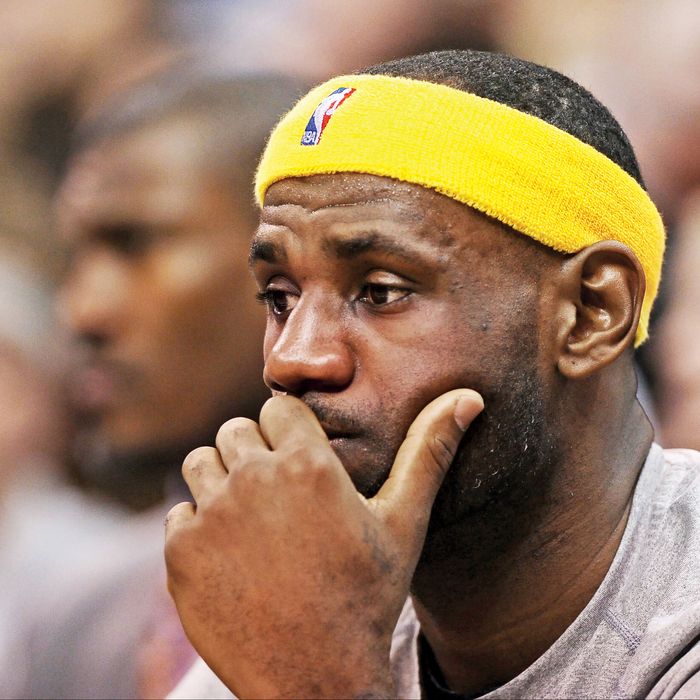 LeBron James of the Cleveland Cavaliers looks on from the bench during a game against the Utah Jazz.
Photo: Gene Sweeney Jr./Getty Images
The last time New York hosted an NBA All-Star Game was 1998, and it was one of the most memorable in league history. It was Michael Jordan's last as a Chicago Bull; at the Garden, where he had famously dropped his double nickel, he scored 23 points, dished out eight assists, and was named MVP. It was Kobe Bryant's first All-Star Game, back when he was 19 years old and seemed like Jordan's logical successor. Shaquille O'Neal was there, as was Tim Duncan (also making his first appearance). Kevin Garnett, Karl Malone, David Robinson, Jason Kidd, Grant Hill, Dikembe Mutombo, Reggie Miller—they were all there, too. Heck, the East was even coached by Larry Bird. 
That game also marked the transition from the Jordan era to one with stars like Kobe, Garnett, and Kidd. Which is, after all, what the All-Star Game should be for: to show the league's progress through its primary currency, the superstars. Unlike MLB (in which excessive showmanship is considered unseemly) and the NFL (in which everyone is wearing masks), the NBA sells its stars first and its teams second; the ads have always featured Kobe Bryant and his Lakers against Chris Paul and his Clippers, as if the rest of the team were just a bunch of merry cohorts, like the E Street Band. This is why the NBA All-Star Game—though always pointless as an athletic spectacle (no one ever knows or cares who wins)—has been invaluable as a marketing tool. Think of the All-Star Game as upfronts in the television industry, or those early Iowa debates with 12 candidates spanning the stage: It's a way to let you know what's on the menu.
But a lot has happened in the 17 years since the All-Star Weekend was last in town. When the league returns this weekend—this year splitting time between the Garden and a building out in Brooklyn that would have been unfathomable back in 1998—it brings with it an entirely new mind-set, a new commissioner, a new philosophy, and a new decentralized power structure. The thing about the NBA All-Star Game now is that the NBA is less about all-stars than ever. For all the talk of LeBron James exchanging one Big Three for another this off-season, the true success stories of this season are teams of relative nobodies. In another era, this might have made the league seem weaker. But the level of play has probably never been higher.
Here are the cities that have won NBA championships since 1980: Los Angeles, Chicago, Miami, Boston, Houston, Dallas, Detroit … and San Antonio. Seven major American metropolises with a history of proud, devoted fan bases and healthy payrolls … and San Antonio.
Now here are the teams that look likely to win the NBA's six divisions: Toronto, Cleveland, Atlanta, Portland, Golden State, and Memphis. Six historically beleaguered franchises—only two have ever won a title (Portland in 1977, Golden State in 1975)—none of which even made the conference finals last year. But this year, Golden State and Atlanta have legitimate chances to break the regular-season wins record set by the Chicago Bulls (72), even though neither team made it out of the first round of the playoffs last year. And more to the point: The average fan almost certainly couldn't name more than two players on either team … if that. You might know Stephen Curry, maybe. The Atlanta Hawks have just finished a streak of 19 consecutive wins. But if you are not a devoted NBA fan, it is extremely likely you have never heard of a single Atlanta Hawk. Go check your closet for that Paul Millsap jersey.
To see either one of these teams atop the standings is sort of astounding. Less than three years ago, Warriors fans booed their new owner out of the building when he showed up to retire Chris Mullin's number, and just last summer, the Hawks were cleaning house in the wake of an ugly racism scandal. But they've completely reinvented themselves this year by embracing a new-school approach: an emphasis on interior defense, efficient offensive principles, and, mostly, bombing three-pointers like crazy. Your father might tell you that three-pointers are lazy offense, that he misses the lost art of the mid-range jumper, but he's wrong: Advanced metrics have showed definitively that deadeye three-point shooters are the most efficient players in the game, and both teams have snipers in spades. The Warriors have Curry and Klay Thompson (who just set the NBA record for points in a quarter, with 37), both All-Stars, and the Hawks have Kyle Korver, a GQ-ready white-boy Iowa model type who happens to be hitting three-pointers at a rate unprecedented in NBA history. The teams both represent the new model: Play tight defense and shoot, shoot, shoot … but only when you're open. And the teams will make sure to get you open.
That's because this year's dominant teams are, well, teams. And having more long-range specialists arrayed on the perimeter means stretching the defense thin, opening up room to attack for even lesser athletes, so long as everybody's willing to pass.
In many ways, this is part of the new NBA's Moneyball revolution; teams have realized that it's not just more efficient to rely on analytics but also cheaper. Why pay max value for an inefficient "star" like Carmelo Anthony when you can get a more streamlined, less possession-hogging player for far cheaper and surround him with more talented role players? The idea of depending on a star makes sense in a playground game, but with the NBA's increased specialization, access to and understanding of video data, and reallotment of resources, stars just get in the way of the flow. The old-school Real Men Take the Big Shot Even If They're Double-­Teamed model may have felt more "masculine" (or something), and made Michael Jordan and Kobe Bryant feel like alpha dogs, but having your best player throw up any old shot just because he's your best player, rather than surrounding him with complementary pieces, is becoming as passé as the peach basket. (Ask Knicks fans how having a shot-happy star has turned out.) The game has returned to its roots: It's not supposed to be about the stars. It's supposed to be about the game.
What's going on? The league has, essentially, San Antonio'd itself. Even though Tim Duncan is one of the best players of all time, he has never been much of a commodity to the league; his brilliance is too bland and dull and consistent to build an ad campaign around. (His nickname, "the Big Fundamental," is perhaps the most aptly damning in NBA history.) But what he has done is be a perpetual rock to build around. He's made himself cheap: He's always taken less money than he's worth to allow the Spurs to spend on other players. But he has also never demanded the ball in clutch situations or demanded to be more than he is: the big man underneath. The Spurs, under coach Gregg Popovich, have devalued the idea of a star by constructing a roster made almost exclusively of role players—by developing a system that works, sticking to it, and finding players who fit it. They were also, perhaps not coincidentally, at the forefront of bringing over players from Europe whose style of play—less ­mano a mano, less lone wolf, less American—fits their system perfectly.
Last year was the breaking point. The Spurs had already won four championships since 1999 using this system, but only last year did the lessons of their dynasty truly seep into the NBA consciousness—because, well, it was suddenly so fun to watch them. The Spurs had a reputation of boring brilliance, largely because of Duncan, but Popovich perfected the formula, wiping out the three stars of Miami come NBA Finals time in delightful, sweeping fashion. The Jordan era confused us into believing one star could force lesser teammates into championships through force of will. It pushed other stars to try to Be Like Mike even when their games weren't a fit. The Popovich era, and last year's team, may have finally ushered us out of it.
Nobody knows this better than the Knicks fans who have been watching this star principle be eradicated every night this season. They can watch the All-Star Game for three hours and remember how it once was. You can enjoy the athleticism and genius on display at this exhibition. But don't think this has any resemblance to the way the NBA works now. The league has transcended stars.
*This article appears in the February 9, 2015 issue of New York Magazine.