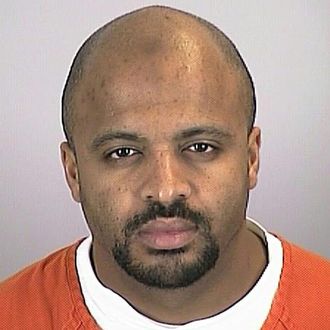 Photo: Sherburne County Sheriffs Office/Getty Images
The man known as the "20th hijacker" made new accusations about Saudi Arabia's role in the 9/11 attacks in a sworn statement this week. Zacarias Moussaoui told lawyers last October that top Saudi officials and members of the royal family financed Al Qaeda, and that he discussed shooting down Air Force One with an employee of the Saudi Embassy in Washington, D.C. The information was gathered as part of a brief to counter an attempt to dismiss a lawsuit filed against Saudi Arabia by families of victims of the 9/11 attacks and revealed in a court filing Monday.
Saudi Arabia has denied these new allegations, and pointed out that the 9/11 commission ruled out direct links between its government and the attacks. "Moussaoui is a deranged criminal whose own lawyers presented evidence that he was mentally incompetent," reads a statement released by the Saudi embassy Monday night. "His words have no credibility."
In his testimony, delivered over two days in October from a federal prison in Colorado, Moussaoui said he was tasked by bin Laden to create a database of Al Qaeda's donors. He spent more than a month inputting this information by hand and came across many high-profile names on that list — including members of the Saudi royal family like Prince Turki al-Faisal Al Saud, the country's former director of intelligence. Notably, Moussaoui also implicated billionaire investor Prince Al-Waleed bin Talal — whose philanthropic work has included endowing chairs in Islamic studies at prominent universities — as one of the donors. (On Wednesday, it emerged that the prince had been slowly selling off his large stake in News Corp. and is now left with just a one percent holding.)
On another occasion, he says, he visited the royal family as a messenger of "shaykh Osama" and was treated extremely well. A Saudi Embassy official visited him in Kandahar, Moussaoui also claims, and asked him to find a spot in D.C. from where they could shoot down Air Force One with a stinger missile before escaping. 
Ties between Saudi leadership and Osama bin Laden, a child of a wealthy and prominent family, have firmly been established, but the Saudis have denied involvement in Al Qaeda and the 9/11 attacks. A passage from the 9/11 Commission report is telling:
It does not appear that any government other than the Taliban financially supported al Qaeda before 9/11, although some governments may have contained al Qaeda sympathizers who turned a blind eye to al Qaeda's fund-raising activities. Saudi Arabia has long been considered the primary source of al Qaeda funding, but we have found no evidence that the Saudi government as an institution or senior Saudi officials individually funded the organization. (This conclusion does not exclude the likelihood that charities with significant Saudi government sponsorship diverted funds to al Qaeda.)
Moussaoui was arrested just weeks before 9/11. His own lawyers argued that he is mentally ill during his 2006 trial, and he has received a diagnosis of paranoid schizophrenia from a psychologist who testified on his behalf. He was still found competent to stand trial, though, and is currently serving out a life sentence at a supermax prison. As CNN points out, many of his past allegations have questionable veracity: "Shoe bomber" Richard Reid has denied Moussaoui's claims that he was supposed to partake in the 9/11 attacks, and a voice recording purportedly featuring bin Laden himself denied that Moussaoui was supposed to strike the White House on that day.