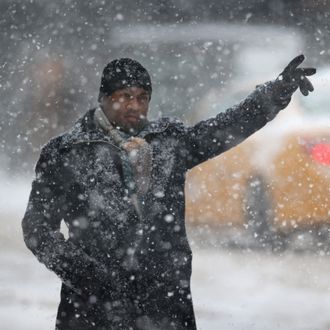 Photo: John Moore/2014 Getty Images
Hey, you: Go back to bed. It's snowing again, temperatures are positively arctic, and the subways are still kinda messed up. Staten Island Chuck should be tried for crimes against humanity for planting false hope about early spring.
Last night, we received a few inches of snow — enough to make your commute slippery and annoying, but not enough to close anything. Central Park recorded 3 inches and JFK got 3.2. We can expect to see between 1 and 3 inches of new snowfall today, putting snow totals somewhere around 4 to 6 inches.
Temps are still unbearably cold; the high will only reach 22 degrees and the low will hover in the mid-teens, with windchills making it feel like it's colder than 10 degrees. This, of course, means the subways are still running on their Cold Weather Plan, so many trains are running local or experiencing delays.
The Times reports that this week could result in temperatures averaging 19 degrees below normal, which is brutal and absurd and basically means that life should be canceled until Mother Nature can get her shit together. All in favor say, "See you in April."