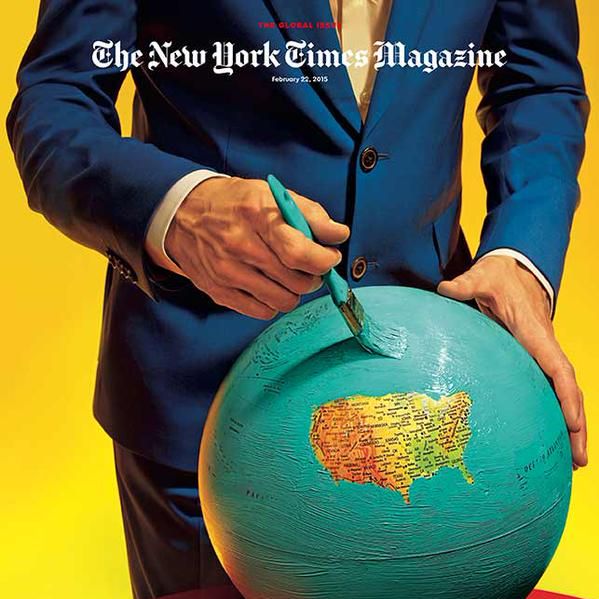 It's been more than a year since now-former New York Times executive editor Jill Abramson declared the paper would rethink how to make the Sunday magazine section "the most distinctive, edifying, pleasurable part of our news offerings," and now the redesigned New York Times Magazine is finally here. Digital content goes live on Thursday, and the paper has been leaking details on what we'll find in the print version on Sunday. For starters, there's a lot more magazine, in more ways than one. Capital reports that Sunday's edition is the largest in the magazine's history, at 220 pages; there are 121 ad pages, up from 33 a year ago; and even the paper stock is heavier. Plus, "The Global Issue" features four covers by artists asked to depict "chaos in the world."
New editor-in-chief Jake Silverstein, a former Texas Monthly editor hired in May to replace Hugo Lindgren, told Women's Wear Daily that the redesign aims to create a more "luxurious" reading experience, with more literary features, poetry, and photography. "The way that we kind of look at it is The New Yorker on one side, and Vanity Fair on the other," added Times senior vice-president and advertising publisher Andy Wright. "The New Yorker is obviously known for great literary writing, Vanity Fair for beautiful photography, not so much for literary writing. We're sort of in the middle of that, bringing in great literary writing, photography and design."
Changes include four long-form narratives in each issue (up from three), more feature essays, and nonfiction work from "voicey" writers. The Ethicist column has been reimagined as a podcast featuring Amy Bloom, Jack Shafer, and Kenji Yoshino, which will be edited down to a print and online column each week (the first edition is already available). Silverstein noted in last week's editor's letter that features such as the One-Page Magazine, Look, Riff, and Who Made That? have been cut to make space for other offerings. Per Capital:
New franchises include Virginia Heffernan and Colson Whitehead taking turns for an opening "First Words" essay about language; Jenna Wortham on cool quirky web trends ("Search Results"); a "Letter of Recommendation" from a different writer each week raving about random great things (first installment: "Tusk" by Fleetwood Mac; coming soon: La Croix sparkling water); musings "On Photography," "On Money," "On Clothing and "On Nature" (one topic per week) from a rotating cast of columnists who also will cover their respective beats throughout the month online; a "Sunday Funny" comic strip; poems; and—for the cerebral set—three new puzzles.
If you truly can't wait until Sunday (and weren't invited to tonight's launch party at the Rainbow Room), you can spend the next few days staring at this hypnotic rendering of the magazine's logo.