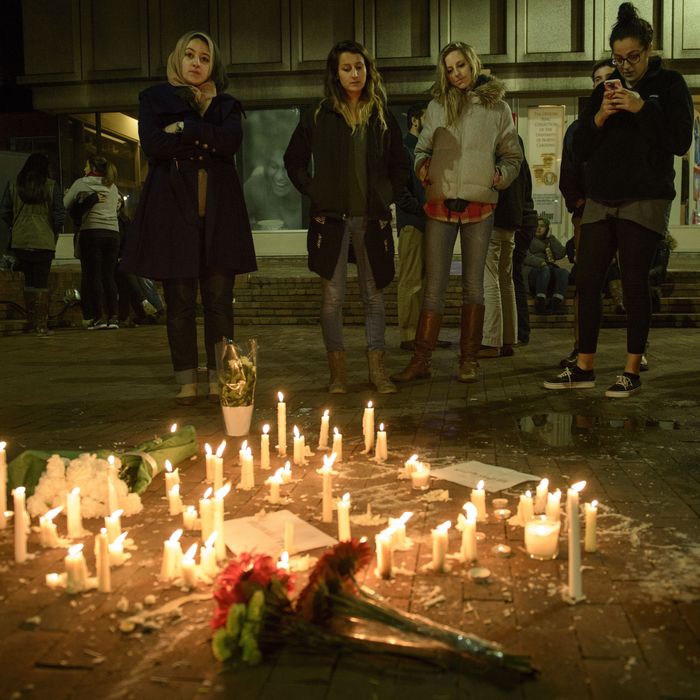 People before a makeshift memorial after a vigil at the University of North Carolina on February 11, 2015 in Chapel Hill, North Carolina.
Photo: BRENDAN SMIALOWSKI/AFP/Getty Images
Following the shooting of Deah Barakat, 23; his wife, Yusor Mohammad Abu-Salha, 21; and her sister Razan Mohammad Abu-Salha, 19, on Tuesday, more than a thousand people gathered for a vigil last night at the University of North Carolina at Chapel Hill. Dozens of other memorials are planned throughout the United States, and the hashtag #MuslimLivesMatter brought worldwide attention to the murder, but debate still rages about the motive for the killing of the three young Muslims. Chapel Hill police initially pointed to an "ongoing neighbor dispute over parking," but the victims' family members say they were targeted because of their religion.
The suspect, 46-year-old Craig Stephen Hicks, turned himself in and has been charged with first-degree murder. He and the victims lived in the same condominium complex near the University of North Carolina campus, where Barakat was a second-year student at the graduate school of dentistry and his wife planned to enroll later this year. (Her sister was an undergraduate at North Carolina State University.)
The women's father, Dr. Mohammad Abu-Salha, told the Charlotte Observer that Hicks had shown in the past few weeks that his issues with the couple ran deeper than a parking space. "It was execution style, a bullet in every head," Abu-Salha said. "This was not a dispute over a parking space; this was a hate crime. This man had picked on my daughter and her husband a couple of times before, and he talked with them with his gun in his belt. And they were uncomfortable with him, but they did not know he would go this far." He said his daughter had mentioned having a "hateful neighbor." "Honest to God, she said, 'He hates us for what we are and how we look,'" he said.
Barakat's friend Ali Heydary described a similar run-in with a neighbor to the Washington Post. "He said he came to the house with a gun on his hip in a holster," he said. "I thought they worked it out, because I never heard anything else about it." Heydary said Barakat never said the neighbor was harassing him because he was Muslim, but he said, "I don't think it was just over a parking space. No way. It had to be about something more."
At a press conference, Barakat's older sister, Suzanne, said, "We ask that the authorities investigate these senseless and heinous murders as a hate crime." Chapel Hill police chief Chris Blue said their investigators are still looking into Hicks's possible motive adding, "We understand the concerns about the possibility that this was hate-motivated and we will exhaust every lead to determine if that is the case."
Early on Wednesday, the Council on American Islamic Relations released a statement urging "state and federal law enforcement authorities to quickly address speculation of a possible bias motive in this case." However, Ripley Rand, the U.S. prosecutor for North Carolina's Middle District, said the shooting "appears at this time to be an isolated incident" and federal authorities have not launched a separate investigation.
From Hicks's Facebook page it appears that he was a gun enthusiast, supporter of gay rights, and atheist. According to the Huffington Post, he frequently criticized all religions, but wrote in 2012, "While I am an outspoken atheist (obviously), I would never take away a persons [sic] right to religion. I would even fight for their rights to have religion if it ever came to that." Last month he posted a photo of what he said was a "loaded 38 revolver."
His wife, Karen Hicks, said at a press conference on Wednesday that her husband was not motivated by bigotry. "We were married for seven years and that is one thing I do know about him. He often champions on his Facebook page for the rights of many individuals, for same-sex marriages, abortion, race."
Rob Maitland, her attorney, added that the incident has "nothing to do with anything but the mundane issue of this man being frustrated day and and day out with this man not being able to park where he wanted to park, and unfortunately these victims were there at the wrong time and the wrong place." He said the only lesson to be drawn is the "importance of access to mental health care services," but wouldn't elaborate on whether the suspect had any mental-health issues.
Regardless of the motive for their killing, those who knew the three victims say they're mourning the loss of three talented and kindhearted people, and they've created a Facebook community to share their memories. The couple was married just six weeks ago, and Bakarat was raising money for a trip to Turkey to provide Syrian refugees with dental care. Last year, his wife delivered dental supplies to refugees in Turkey, and Barakat had recently posted on Facebook about providing food and dental supplies to homeless people in Durham, North Carolina. "They were angels, just wonderful, beautiful people," said Ayoub Ouederni, vice-president of the UNC Muslim Student Association. "They were all-American kids, just ordinary kids."