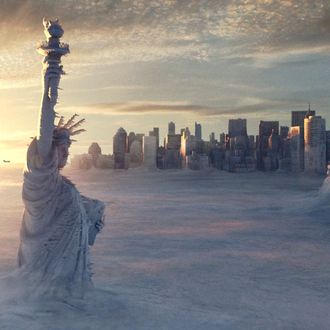 Photo: Twentieth Century Fox
Get out while you still can. Find a nice patch of land somewhere temperate where you can see the sky. Live out your days there, because at this point New York's apocalyptic future is basically guaranteed.
A new report issued by the New York City Panel on Climate Change has confirmed your worst fears about our shifting atmosphere. Not only have sea levels and temperatures risen dramatically over the last few decades, their rise is expected to accelerate in the coming years, "increasing risks for the people, economy and infrastructure of New York City," says NASA.
According to the report:
Mean annual temperature increased 3.4 degrees Fahrenheit between 1900 and

 

2013.
Mean annual precipitation increased 8 inches between 1900 and

 

2013.
Sea levels in

NYC

have risen 1.1 foot since

 

1900.
And it's only going to get worse:
By the 2050s, future mean annual temperatures will increase 4.1 to 5.7 degrees Fahrenheit, and 5.3 to 8.8 degrees Fahrenheit by the 2080s. The frequency of heat waves will also triple from two to six by the 2080s, the number of 90-degree days will double, and the temperature will rise above 100 degrees at least three to five days a

 

year. 
By the 2050s, future mean annual precipitation will increase 4 to 11 percent; by the 2080s, it'll increase 5 to 13

 

percent.
Luckily, the city has developed an extensive plan to try to ensure these predictions don't come true, including multi-million-dollar flood protection systems, shoreline upgrades, and armored levees. Leaving the city for good is still probably your best bet.