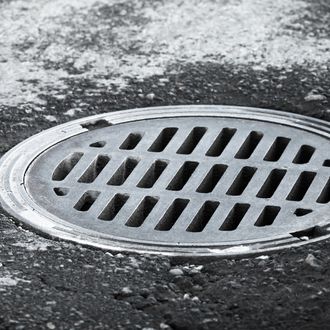 The manholes of Park Slope — and the rest of the city — are having a hard time dealing with the winter weather. On Monday, an underground explosion near Prospect Park sent a manhole cover flying into the head of a 71-year-old man who was out walking his dog. Then, at around 4:15 a.m. on Tuesday, a manhole fire on Sixth Street torched an SUV and filled six apartment buildings with carbon monoxide, forcing the people inside to evacuate. 
Firefighters quickly extinguished the blaze and, the New York Daily News reports, residents used a city bus as a warming station until it was safe for them to reenter their homes four hours later. 
Officials said that the fire was caused by ice-melting salt, which can damage electrical wires. "What it does is it eats away the insulation that prevents the different cables from touching each other. Once that's gone, you get this effect," FDNY Battallion Chief Thomas Schmitt told DNAinfo. Meanwhile, ConEd spokesman Thomas McGee told the Daily News that the problem wasn't specific to "a particular line or infrastructure." Case in point: On Monday and Tuesday, manhole fires also caused buildings on the Upper East Side and in Washington Heights to fill with carbon monoxide. 
Be careful of manholes, which are everywhere.