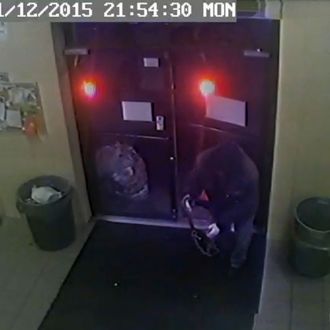 Surveillance camera footage of one of the thieves.
Police are looking for a group of thieves believed to have robbed 73 ATMs in the city since 2013, including two last Monday. The gang of five has used various methods to break open machines inside businesses like bodegas, laundromats, and pizzerias, and steal the money boxes inside, netting them between $1,300 and $12,000 each time, according to the Post.
The robbers, who have hit every borough except Staten Island, have gotten increasingly brazen. They've used 19 different stolen cars in the robberies and have reportedly gone from using hand tools to open the machines to pulling them open with chains — sometimes in broad daylight. The owner of a Queens laundromat told the Post how they got his machine while he was taking out the trash:
"A man came in about 20 minutes before the robbery occurred," said Khemraj Sadoo, 44, who owns First Class Laundry at 74-02 101st Ave. in Ozone Park.

"He came with a crowbar. He made a little opening next to the lock on the ATM machine. Twenty minutes later, he came back with a truck. He opened the door, and the guy backed up the truck and then backed up a second time and sped up, and that's when the entire door came off from the machine.

"The guy who was holding the door open ran in and grabbed it and ran away," Sadoo said.
In one case, they robbed a midtown ATM just around the corner from a police station.
On more than one occasion, they've had to flee without any cash to escape from approaching cop cars, but the thieves remain on the loose. The NYPD reportedly has some leads, but didn't go into detail.