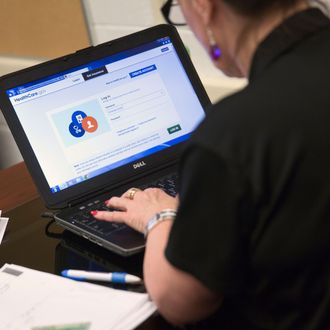 Photo: Andrew Harrer/Bloomberg via Getty Images
On Friday, the White House announced that they were once again preparing for bad press because of Healthcare.gov, after the government sent faulty tax data to 800,000 people who signed up for health insurance using the website and were eligible for subsidies. That means one fifth of the people who signed up received wrong information, and are now being told to hold off filing their taxes until the problem has been corrected. Fifty thousand people have already filed taxes with the incorrect data.
The government also announced a plan to avoid future bad press by extending the enrollment period past last Sunday, since 6 million people could face a penalty if they don't have insurance this year (although the government has also offered many exemptions for those unable to acquire a plan).
The extension, which will run from March 15 to April 30 in the 37 states that use Healthcare.gov, was a request from Democrats afraid of facing more Obamacare-related backlash when people realized they could have to pay $325 or 2 percent of their income (whichever is more) if they didn't have health insurance.
The administration says that it will not offer an extension next year. 
The Affordable Care Act has had good news to share, too: Around 11.4 million have signed up for insurance for 2015 (although not all have paid their first premium yet), and uninsured rates keep dropping.
The extension — besides trying to keep angry, fine-paying citizens at a minimum — also offers an opportunity to boost Obamacare enrollment numbers for this year even higher.
Right before the enrollment extension is scheduled to begin, the Supreme Court will once again consider the Affordable Care Act.