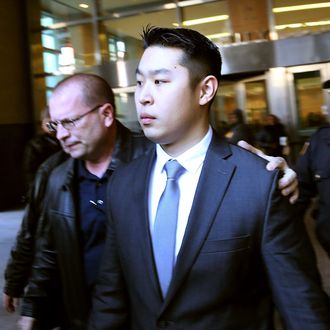 Photo: Spencer Platt/Getty Images
Rookie NYPD officer Peter Liang has pleaded not guilty to charges related to the death of Akai Gurley, a 28-year-old Brooklyn resident who was fatally shot in the dimly lit stairwell of NYCHA's Pink Houses in November. Gurley was taking the stairs with his girlfriend when Liang fired from a floor above, sending a bullet ricocheting off the wall and into Gurley's chest.
At a hearing on Wednesday, prosecutors alleged that Liang stood by doing nothing for four minutes while Gurley bled to death. Previous reports charged that Liang may have called his union rep about the incident before he called for medical aid.
Back in November, police chief Bill Bratton said the shooting was "an unfortunate tragedy" and chalked it up to an "accidental discharge."
Liang was released without bail.