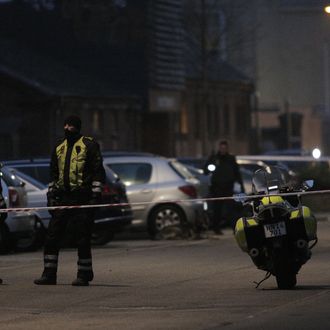 The scene of the shooting.
A gunman shot up a café in Copenhagen on Saturday afternoon, killing one man and injuring several others. At the time of the shooting, the Krudttoenden Café was hosting a debate featuring Lars Vilks, a Swedish artist who has faced threats and assassination attempts for his cartoons of Mohammed. (He is best known for depicting the Muslim prophet as a dog.) Vilks was not harmed, but one of the event's organizers, Helle Merete Brix, told the BBC that she believed he was the attacker's target.
The panel — called Art, Blasphemy and the Freedom of Expression — was also attended by the French ambassador to Denmark, François Zimeray, who was there to speak about last month's Charlie Hebdo killings.
So far, no one has claimed responsibility for the assault, which reportedly left at least 30 bullet holes in the café's windows. (The shooter did not enter the building.) While the Copenhagen police initially said they were searching for two suspects, they now say there was only one gunman. A photo of the alleged attacker, dressed in a purple balaclava and a puffy coat, has been distributed. Meanwhile, Danish prime minister Helle Thorning-Schmidt has deemed the incident a "politically motivated" act of terrorism. 
This post has been updated throughout.